Coping With Pesky High Feed Costs
Coping With Pesky High Feed Costs
The cost of critical feed ingredients continues to rise.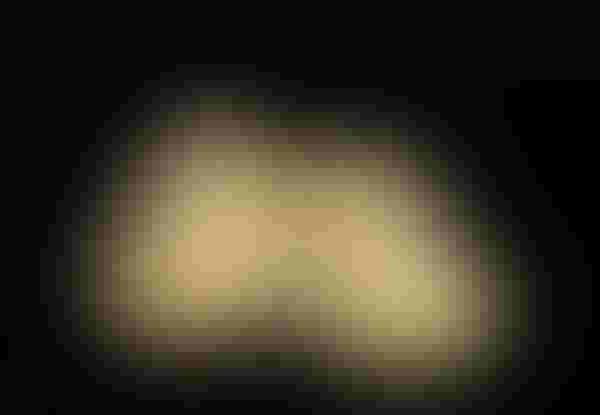 Producers need to recognize for every 100-micron reduction in particle size, feed efficiency improves by about 1.2%, saving 7 lb. of feed to finish a pig.
Just as early June hog futures prices soared to $100 per hundredweight, so, too, did feed ingredient prices nearly increase in lockstep to $97 to raise a finished pig (50 to 280 lb.), lamented Joel DeRouchey of Kansas State University in a talk at World Pork Expo (WPX) held June 5-7 in Des Moines, IA.
When the Extension swine specialist gave a similar talk at WPX a year earlier, corn futures stood at $6.00./bu., but quickly climbed to $7 or so with the looming drought. Last year it took $87 to raise a finished pig, based on early June ingredient prices.
This year's production cost figure easily topped the five-year average for the first week of June during the show.
Moisture has returned in 2013 in a big way, but had threatened completion of corn and soybean planting. Corn futures during the show stood at $7.30/bu. "The corn price was as high as it has been for the first week in June over the last five years," he noted.
That volatility extended to another key ingredient, soybean meal, hitting $474/ton during WPX, while distiller's dried grains with solubles (DDGS) at $220/ton actually dropped from $240/ton. Prices of choice white grease, dicalcium phosphate and lysine also dipped, he said.
Granted, prices for DDGS have dropped. But DeRouchey reminded that the value of DDGS is less than it has been historically because of its reduced oil content, which lowers its energy concentration.
Feed Efficiency
A common question for DeRouchey is whether better feed efficiency converts to more dollars. "If that were the case, everyone in this room at WPX would be feeding a standard corn-soy diet with 5%-6% added fat all year-round. We wouldn't be using alternative ingredients. We would grind feed very fine, extrude and pellet rations, and we would have a massive improvement in feed efficiency. The reason we can't do that is it costs too much money, or these technologies are not available for producer use," he said.
Thus, many technologies can't be fully utilized and genetic potential of the pig can't be maximized, said the Kansas State swine nutritionist.
With that realization, pork producers must target productivity on a group basis, depending on what they can control on their farms to ensure groups close out as efficiently as possible. Cheapening up diets comes at a cost.
Feed efficiency is influenced by a multitude of things that can be controlled, including feed wastage, feed and water availability, and proper feeder adjustment.
"Feeder adjustment is something we know that we need to do. A lot of times it just doesn't get done. Go back 15-20 years and we would recommend only 20%-30% pan coverage. We have increased that recommendation to about 50%-60% pan coverage with most modern feeders because most of the bowls are a little deeper and feeders are a little taller up in the front lip. This makes the opportunity for wasted feed less than what it was on previous designs," DeRouchey said.
As the industry moves to heavier market weights, compounded by more competition and less square footage in pens, more feed needs to be readily available to the pig. "We need to have that feed there so they can eat it and get out of the way for the next group of pigs," he explained.
To determine the value of switching to wet-dry feeders, 15 trials have been completed at New Horizon Farms in Pipestone, MN, comparing half wet-dry feeders vs. half conventional dry feeders. "If we average all of these experiments together, the wet-dry feeders had big improvements in average daily gain and in average daily feed intake (74-230 lb.). But when it came to feed efficiency, the pigs simply ate more and they grew more, but they weren't any more efficient," DeRouchey said.
In the trials, extra gain on the wet-dry feeders converted to heavier hot carcass weights, slightly fatter pigs and similar loin values, but less lean percentage.
Economically, returns increased by $1.61/pig from selling extra weight from pigs on wet-dry feeders. But those returns will vary depending on packer grids, he said.
Growth and feed efficiency are also negatively impacted when pigs' environment falls outside the thermoneutral zone. Make sure ventilation, fans and misters keep barns as cool as possible this summer to minimize temperature influences and maintain pig performance, DeRouchey reminded.
Closeout feed efficiency worsens dramatically when disease causes late-finishing mortality. Mortality will increase feed/gain by about 0.015 for each 1% increase in mortality when spread across the finishing period, he said.
Producers need to recognize that grinding corn finer improves feed efficiency and average daily gain. For every 100-micron reduction in particle size, feed/gain improves by about 1.2%, saving 7 lb. of feed in finishing a pig. At current feed prices, that's a savings of $0.98/pig in feed costs.
To ensure accuracy of particle size, submit feed samples to a testing lab. Realize if your lab uses a flow agent, the results will overestimate actual particle size reduction.
Alternative Ingredients
DeRouchey pointed out that there are few traditional corn-soy diets left in the United States, whereas, it is not uncommon to have swine diets containing up to or more than 50% of alternatives, such as DDGS, wheat midds, bakery byproducts and other ingredients.
In research on diets containing 30% DDGS and 20% wheat midds, corn was ground from 650 microns to 320 microns. Then, the whole diet containing the co-products was ground to 360 microns. When the corn was ground finer, there was, as expected, a slight improvement in average daily gain.
But when the whole diet was reground, gain stayed the same. In fact, there is some evidence to suggest that high-fiber, low-digestible ingredients may be negatively affected by a reduction in particle size, he said.
Pelleting
Research at Kansas State has consistently shown an improvement in feed efficiency from pelleting swine diets. Grinding corn to 300 microns and pelleting diets have been practiced by large swine production systems for years. The challenge for many smaller producers is that their toll mill doesn't pellet feed and can't grind feed that fine. "We know that is a limitation in many cases," hesaid.
The key when pelleting feed to get a good response is that there needs to be less than 20% fines in the feed at the feeder, DeRouchey said. "You actually want to be able to see pellets in the bottom of the feeder; if you see meal, there are actually a lot of fines. If you have a lot of fines, then you are wasting your money on pelleting."
Oil-Extracted DDGS
Since the ethanol industry has been extracting more oil from DDGS, many are asking how this altered byproduct fits into swine diets. Kansas State completed trials last fall looking at the affect of medium-oil DDGS of 7.4% fat on pig performance from 152 to 280 lb. About 3% oil has been extracted from the DDGS. The trial compared 0 up to 45% of the diet fed as DDGS to evaluate growth and carcass traits (Table 1).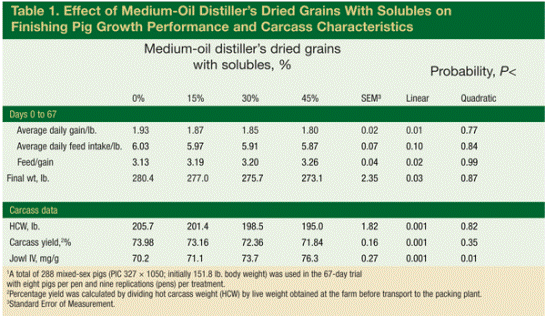 "Normally, with high-quality DDGS, when it is fed in 30% of the diet, we would have equal performance with that of a standard corn-soy diet. But when we remove some of the oil from DDGS, we see that is not the case. Average daily gain is linearly reduced as we increase the percentage of medium-oil DDGS fed," DeRoucheysaid.
Feed efficiency worsened as DDGS levels increased. Yield percentage also declined linearly as medium-oil DDGS levels increased. "We know that when we see diets that are higher in fiber, that yield goes down," he said.
Iodine value as a measure of firmness of the carcass is higher, indicating the carcass is softer, when medium-oil DDGS is fed. "Even though that number is going to go up as it does normally with DDGS, it is not as dramatic with the oil-extracted DDGS," DeRouchey pointed out.
Work with your feedmill or a company that monitors DDGS quality to control product variability.
What many producers will do when feeding up to 50% co-products in swine diets is withdraw or reduce them 15-30 days prior to marketing to recoup some of the negative effects associated with feeding low-energy, high-fiber ingredients. "It is a very practical regimen to use — save money early, then get pigs back on a moderate diet late to regain some of the performance and carcass weight," he said.
For more information on swine diets, go to www.swinefeedefficiency.com to learn more about efforts from Kansas State and Iowa State universities.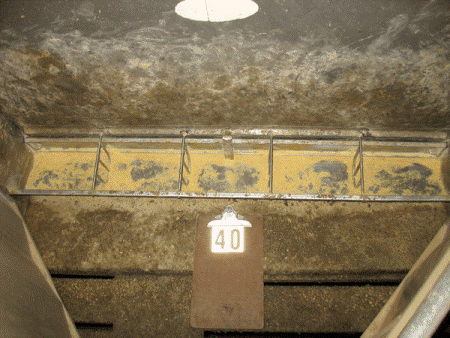 This shows the proper adjustment of a finishing feeder.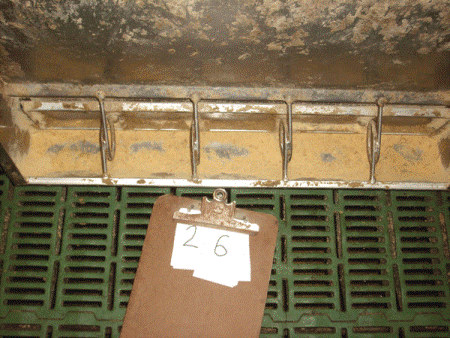 Good pellet quality in a feeder is illustrated here.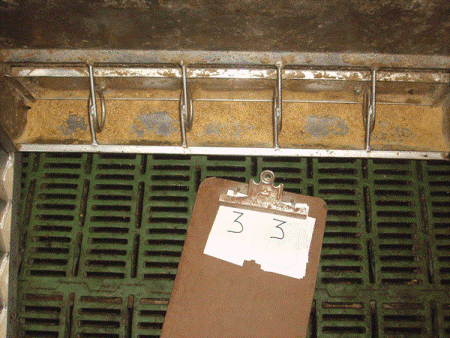 This feeder holds pellets of poor quality as evidenced by the level of fines.
Subscribe to Our Newsletters
National Hog Farmer is the source for hog production, management and market news
You May Also Like
---