Converting to stall-free, antibiotic-free production
Converting to stall-free, antibiotic-free production
Sunterra Farms shares the ins, the outs and the opportunities.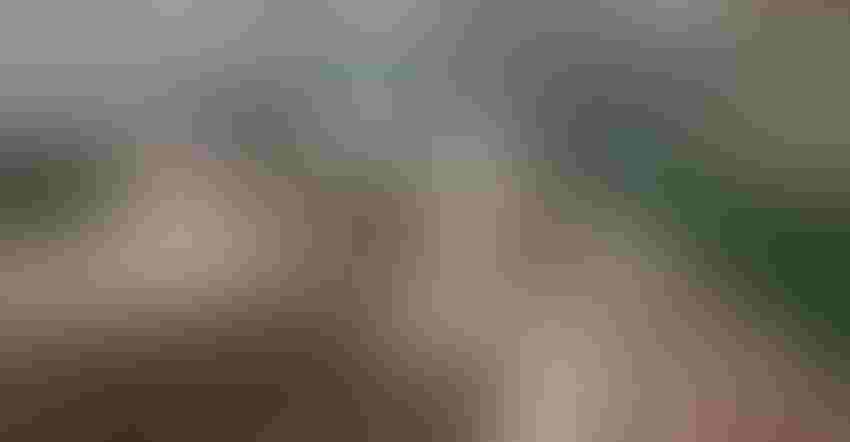 Sunterra Farms has adopted a "no surprises" policy, which encourages each manager to come forward before a problem gets too big, to look for a possible solution. Ben Woolley says it is also critical to have employees take ownership.
Coutesy of Sunterra Farms
Ben Woolley will tell anyone in the pork industry he's not an advocate of stall-free, antibiotic-free production.
"It's not better than any other system of production. We do it because we're paid a premium for it, and we've managed to overcome the obstacles involved in it," says the director of operations for Sunterra Farms. "It's made us better managers, but it's harder on the pigs. It's not welfare-friendly. It's harder on the people. So, anybody who tries to tell you anything different from that does not have experience with it and doesn't know anything about it."
Woolley, who has worked in the pork industry for 35 years, manages all aspects of Sunterra's 18,000-sow business in Canada, with nurseries and finishing in the United States. In addition, the company contract-manages more than 1.7 million finishing pigs per year in the U.S. Headquartered in Acme, Alberta, Sunterra got its start in 1970 as PIC (Pig Improvement Co.), when four pork industry professionals — including Woolley's dad, Ken Woolley, and Howard Fredeen, Jack Greenway and the Stan and Flo Price family — brought PIC genetics over to Canada from the United Kingdom.
"Dave Price grew the breeding stock business. And then back in the '90s, they started to diversify and go into some other things; and in 1997, they sold the breeding stock rights back to PIC," Woolley says. "Then we started to diversify to do all kinds of other interesting and fun things."
Broadening the business
Diversify indeed, as today Sunterra Farms not only produces pigs that are raised with no antibiotics ever, the company has its fingers in pork processing and retail, as well as cattle and crops. The company runs a small slaughter plant where it processes about 4,000 hogs a week, predominantly fresh, for a high-end market in Japan. It also runs Soleterra d'Italia, another processing plant that produces several different types of salami, prosciutto and capicola. Sunterra also maintains 10 retail outlets and Sunterra Meats in Calgary and Edmonton, Alberta. It has plans to open a new one in Red Deer, Alberta, this year, and possibly another in Sioux Falls, S.D., in the next two to three years.
In addition to pork production and processing, Sunterra's operation includes 5,000 acres of cropland. Also, Doug Price has a separate beef program with 95,000 head in feedlots and 4,500 in cow-calf production, all on 40,000 acres of ranchland.
"It's decent-size, a family-owned operation, very integrated, very funky, and we sort of move in directions as people are passionate about a particular area," Woolley says.
By not putting all of its eggs in one basket, Sunterra has been able to remain profitable, even during times of uncertainty.
"We try not to have too much in one area; and if you think about the plants being a hedge against the pigs, so when the pig prices are low, we're making money on the plants. When the pig prices are high and the plants are not making so much money, the stores provide a stable income to offset the fluctuations in the agricultural markets," Woolley says. "That's the reason that we work pretty hard on our diversification, and it is our main driver. We're not big enough to compete with the really big guys, so we've principally focused on quality and targeting a really high-end market, both in Japan and domestically."
Partnership and production
Woolley acknowledges part of Sunterra's success also comes from its number of strategic partnerships. For example, Sunhaven Farms, another production company in Alberta with 17,000 sows, produces all the slaughter hogs that go through Sunterra's plant. A1 Development Solutions, based in Sioux Falls has been instrumental in helping Sunterra get permits for farms in South Dakota.
Finally, Sunterra, The Hanor Company Inc. and PIC work with the University of Alberta, where the companies sponsor a reproductive physiologist who conducts research trials for them.
Sunterra maintains five separate pig flows in its pork production system:
Ontario. 5,300 sows in five flows in the province; produces NAE pigs that are shipped as isoweans and finished in South Dakota

Mountain Vista, Alberta. 4,300 sows; produces NAE feeder pigs that are shipped and finished in South Dakota

Stanley, Alberta. 4,000 sows; produces NAE pigs shipped as isoweans and finished in South Dakota

Lariagra, Alberta. 4,200 sows; produces NAE pigs shipped as isoweans and finished in South Dakota

Neufeld, Alberta. 850 sows — Berkshires, Lacombes and Durocs — raised for specialty products for Japan and other domestic high-end retail markets
Today, Sunterra has 1,200 employees. The company also maintains an extensive network of independent veterinarians and nutritionists that help with its NAE production.
Doug MacDonald and Greg Wideman, South West Ontario Veterinary Services in Stratford, Ontario; Jeff Blythe, Pipestone Veterinary Service in Orange City, Iowa; and Egan Brokhoff and Jessica Law, Prairie Swine Health Services in Alberta, make up the system's veterinarian team. Nutrition is conducted by Steve Dritz and Joel DeRouchey with Kansas State University in Manhattan, Kan., and Malachy Young with Gowans Feed Consulting in Wainwright, Alberta. Mark Chambers serves as vice president of production in Canada, while Ben Keeble is vice president of production for the U.S.
Converting to NAE
While high herd-health status has always been important to Sunterra, Woolley says making the move to NAE production wasn't an easy one.
"We came from a breeding-sow mentality from our old PIC days, and so our focus has always been on really high health in our herds in Alberta," Woolley says. "When we were approached to possibly produce antibiotic-free pigs, we took a look at it; and we took a lot of things into consideration, in order to try to make that decision as to whether or not we wanted to take that leap of faith and try to do this."
The Sunterra team soon learned the company would have to make several specifications to its production systems. First, all sows have to be in loose houses. All pigs have to be antibiotic-free from birth to slaughter, so no antibiotics right from Day 1 care and no animal byproducts in the feed.
The hogs are slaughtered in Waterloo, Iowa, and slaughter must occur during a two-day time frame — which often means loading several trucks in a very short period of time. The hogs that are treated with antibiotics are tagged and sent to a commodity market, so they don't go into the flow. All farms and feed mills are routinely audited for compliance.
"Sequencing is absolutely critical because if they're producing feed for other farms then and they're putting antibiotics in those feeds and then we have to have flushing protocols in place in order to make sure that that's done properly, so they are constantly audited," Woolley says.
While Sunterra is paid a premium for producing NAE hogs, Woolley says Sunterra had to make extensive changes to become compliant, including the conversion from stalls to group housing.
"This was quite a challenge," Woolley says. "We had people from the UK [United Kingdom] who are used to managing loose housing systems, but none of them had actually been through a conversion before; so, it was new to us, and it is not for the faint of heart, I can tell you, to convert sow herds to loose housing."
Today, Sunterra has several different types of loose sow housing. The Ontario farm was converted to Gestal unit stalls. At the Stanley site — the 2,000-sow farrow-to-finish unit — the finishers were converted to loose housing, and then the stalls were maintained because sows are allowed to be housed there up to 40 days.
The stalls were used for breeding, and the herd has since expanded to 4,000 sows. At the Mountain Vista and Lariagra farms, the Sunterra team cut off shoulders (nongated) stalls and made pens in there, which Woolley admits was probably the most challenging conversion.
Transition troubles
Throughout the whole transition process, Woolley says genetics had a big influence.
"We have two different types of genetics. One of the genetics fought like hell when we converted them, and our mortality went up and the late fallout went up, and all of those things created huge problems for us," Woolley says. "The other genetics — we put them in a pen together, and they didn't fight. So, deciding on your genetics is pretty critical, but we've also come through that now, and the genetics that fought are performing better."
While the Sunterra farms still see some sows with scratches on them and still see some fighting in the pens, it has gotten better. However, Woolley says the staff soon learned monitoring is essential in a group housing system, and to ensure sows are going through to eat.
Before Sunterra converted to the group housing system, it was running about a 91% farrowing rate, with a 3.5% late-term fallout (falling behind the breeding herd late in gestation) and low sow mortality. Right after the conversion, the Sunterra sites dropped to an 85% farrowing rate, the late-term fallout rate rose 1% and sow mortality jumped during the transition.
"It was tough. We had sows fighting. They'd never seen the system before. They'd never been around other sows before, so they were fighting like crazy," Woolley says. "Even now, you'll put a group of sows together and 35 days later, you suddenly see them fighting and you think, 'Well they've been together for 35 days, why are they fighting now?' It's just somebody has a scrap, and all of a sudden, before you know it, it has blown up into a fight."
Since the conversion, the Sunterra farms are back to a 91% farrowing rate, the late-term fallout rate has actually dropped below where it was before, and the sow mortality rate has come back to preconversion rates. However, he says the mortality rate varies considerably among the different units Sunterra has in its system, and that is something the Sunterra team is trying to figure out.
"But you can see that the conversion process itself was tough. It took a lot of management," Woolley says. "We lost quite a few employees because they just couldn't handle the extra stress and workload of having to go through that conversion; and it put a lot of pressure on our managers to handle that, so we had to be careful about that."
Need right culture
Woolley has several key takeaways from the experience. First, he says to breed more sows because there will be an increased fallout rate. Also, don't underestimate the time it costs to renovate. Sunterra's renovations all went over budget, and it was extremely expensive to do, so the time and effort it takes to renovate should not be underestimated. Make sure to spend time training staff and sows.
As Woolley quotes one of Sunterra's managers: "'Sows don't have social skills,' and it's exactly right. You know the sows don't have social skills when you first mix them, because they don't know how to act around other sows. You have to take time and be patient and train them to whatever feeding system it is, and it just requires a lot of time and effort to do that."
Woolley says sites will need more staff than you think — especially during conversion, as resignations start.
"The first thing to ask is 'Do you have the right culture?' One of the things that we found is when you are producing antibiotic-free pigs, it is really, really tough, and you have the sow unit and the nurseries playing the blame game," Woolley says. "So, if they've got a problem with the pigs that have just arrived from the sow unit, the nurseries have an immediate tendency to say, 'Well the sow unit didn't produce as good a pig for us.' So, we have to have a culture of sharing information and working together to solve problems, rather than any finger-pointing."
Now, every Friday morning all the Sunterra farm managers have a call, where everyone gives an update on their site and any issues they are having in their area. The company has also adopted a "no surprises" policy, which encourages each manager to come forward before a problem gets too big, to look for a possible solution. Woolley says it is also critical to have employees take ownership.
"It's no good if you decide to put a Gestal system in, and that's the system they've got. They've got to take ownership of that system and make it work, and they've got to be involved in that decision-making process," Woolley says. "If they don't take ownership of it, they're going to blame the Gestal system and it's going to fail, so having everybody take ownership for what they've got is a critical part of it."
Start with small bugs
Health is the key to antibiotic-free production, and Woolley says it is impossible to produce any pigs unless the facilities are very clean right from the beginning. Farrowing and nurseries by far have been the biggest challenge for Sunterra, as antibiotics cannot be used when the pigs are in the farrowing crates or in the nurseries.
Woolley says the Sunterra team has learned it's crucial to manage the small bugs through vaccines, aspirin, etc. However, some antibiotics in sows can be used as long as the piglets don't have access to them, so Sunterra tries to use strategic medication in the sows so that there are fewer pathogens passed onto the piglets. Piglets, though, cannot have access to feed or water containing antibiotics.
When it comes to herd health, Woolley says he thinks the industry needs to do a much better job of understanding the interaction between the small bugs.
"We tend to focus in on the Mycoplasmas and the PRRS [porcine respiratory and reproductive syndrome] and PEDs [porcine epidemic diarrhea] and things like that," Woolley says. "We, as an industry, need to do a much, much better job of understanding the interaction between those small bugs, and also things like, what interaction are there between different influenzas? Even though it may be nonpathogenic in the herds that they have, when you put them together, what happens? That way we can plan better, especially if we're looking at a change in our source of our gilts. Then we can do a much better job of planning for it and handling it, and managing it when we make those changes."
Woolley says preparing that baby pig gut for really good success in the finishers is absolutely key; and when you can't use antibiotics to do that, then the management of that pig becomes absolutely critical. Here are some key elements of success in NAE nurseries:
Weaning. No weaning pigs under 18 days of age. Optimal is probably 22 to 23 days of age.

Controlling scours. Controlling scours includes constant diagnostics and monitoring, and that starts in the sow herd.

No leaving pigs behind. Leaving pigs and moving on to the next room just compounds the problem.

Euthanization. Euthanizing risky pigs to control disease in the nurseries.

Paying attention to detail on arrival. This includes having a clean, warm, dry facility; pulling and treating pigs aggressively in the first three days; and making sure pigs are getting off to a good start through gruel feeding, etc.
Lessons learned
Sunterra keeps a health database on every single group of pigs that has gone through its nurseries and finishers, and it records everything from ventilation and feed to health challenges, vaccinations and antibiotics. After 3.5 million replications, the Sunterra team pulled information out of the database to better understand the economics of health and biosecurity with this type of system.
The cost of PRRS-positive versus PRRS-negative was $4 per pig. The biosecurity of barns, pass versus fail, cost $2.57 per pig. The Danish entrance system implemented in the finishers cost the company $2.49 per pig. Pen size, small versus large, was $1.83 per pig. Feeder type, dry versus tube, was $1.26 per pig.
Today, Sunterra is getting about 87% of its hogs through antibiotic-free production, and getting a premium on those hogs. Woolley says the company hasn't lost a lot on average daily gain, and is still running OK on mortality difference.
"There are differences in our different flows, and you're going to find that there's always some variation in the flows, depending on what pathogens are at play there and the history of the herd," Woolley says. "Our mortality is a bit higher than our benchmark group, but we expect that with antibiotic-free production. You can't kid yourself and expect to get exactly the same mortality. There is a cost to doing it."
For percent marketed, Sunterra is running about 96% to 97%, which is actually better than its benchmarking groups that are using antibiotics.
"It's possible, so that's a good-news story for us — that we're getting a good number of pigs into value-added markets," Woolley says.
With this initial success in NAE production, Sunterra is now parlaying what it has learned into its contract management systems. The company now manages an additional 450,000 spaces for three different companies.
"Our very concentrated approach has helped us with that contract management and helps us do a better job of that," Woolley says. "Again, focus on health and biosecurity is a key, and trying to make sure that their pigs are getting off to a good start. We are doing a good job with that and have very successful relationships and a growing business — and it nicely complements our own production, because it gives our guys a chance to grow and to continue to advance in the company, and to take on more responsibility."
Subscribe to Our Newsletters
National Hog Farmer is the source for hog production, management and market news
You May Also Like
---