2014 Environmental Stewards: Technology Trend
2014 Environmental Stewards: Technology Trend
This leading-edge Missouri farm balances pigs, crops and natural nutrients.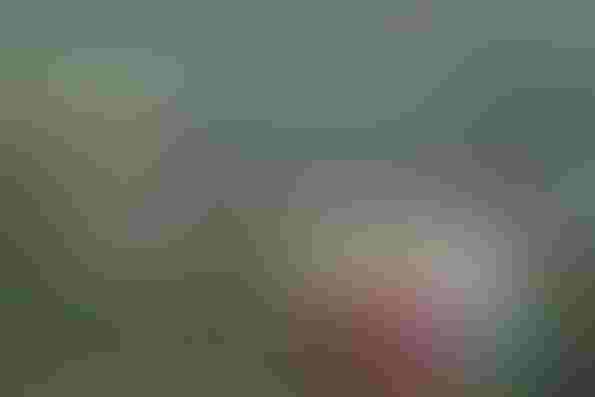 David Stephens lives in Saline County, MO, just a couple of miles south of the Missouri River and only a couple of hours north of the Lake of the Ozarks. It's no surprise that he's the kind of guy who likes to spend a lot of time with his boat.
But this is not pleasure boating — far from it. The boat that David spends many hours with each autumn floats on a lagoon, agitating and stirring the contents to provide a uniform flow of nutrients in the effluent that is being pumped to fields.
"This boat is remote-controlled," he points out. "It has three nozzles, two of which propel it forward or reverse, and one nozzle in front steers it left or right. The operator controls all the functions from the bank of the lagoon. You can direct it to wherever you need to agitate; when you see solids coming up, you can work that area more intensely."
High-tech approach
Adopting new technology is a big part of life at Stephens Farms, near Malta Bend, MO. David moved his young family to this farm in 1982, and over the past 32 years, the farm and the Stephens family have both grown. David and his wife, Sharon, raised four children on the farm. Eldest son Jammie now serves as overall manager for crop production on the fertile corn and soybean fields, and he also manages the farm's trucking operation. Son Jeremy and daughter Laura also are involved in day-to-day operations; another daughter, Lisa, is an equine veterinarian in Texas, but she worked extensively on the hog farm as early as her high school years.
"This is a family-oriented organization," Sharon says. "It has been a great place to raise a family. The kids have been helping out on the farm since they were little, and they've become responsible, community-oriented people."
The homeplace has seen a number of changes through the years. In 1982, it included both open lots and confinement buildings, but was remodeled in the late 1980s into a total confinement site. In 2005, the site was given a full makeover, with all existing buildings demolished and materials removed from the site.
The concrete was hauled to the Missouri River, where it was used to help build a new dike. More than 400 truckloads of sand were backhauled to build a pad for two new buildings: a farrowing house with 630 stalls, and a gestation barn with 3,600 stalls. The buildings are connected by a walkway and have an office that provides shower-in/shower-out facilities.
Construction began in 1993 on a second building site, which sits a half-mile west. This site now supports approximately 2,600 sows in a farrow-to-wean operation.
The Stephens home, with its energy-conserving, earth-contact design, overlooks an expansive manicured lawn. To the south is a broad pond stocked with paddlefish and catfish; the lawn is landscaped with dozens of trees, both pines and hardwoods. "It really surprises people when they visit our place and find that it doesn't smell like a farm," Sharon says. "The trees block the view of the buildings, and you don't hear much noise from the hogs, since it is absorbed by the trees and the surrounding crops. We talk about the hogs we raise, and when people ask, 'Where are they?' I point out, 'They are right next door.' "
Manure management
David uses the latest technologies to make sure that manure nutrients are applied so as to release a minimal amount of odor, while providing the greatest amount of benefit to the subsequent crop. The lagoon boat is only the first in a line of high-volume, remote-controlled application technology that delivers nutrients to the field.
"We've evolved a lot in our manure management over the past 32 years," he points out. "In 1982, we used a tank wagon with injectors, which was a slow process. We went to the drag-hose system when it became available, which increased our efficiency and reduced compaction. Now, we use GPS to automatically steer the application tractor, and we use an Internet connection to allow me to have full control of all the functions of the pumps and application equipment from the seat of my tractor."
From the seat of his John Deere 8310R tractor, David keeps watch on seven electronic display units. The lagoon agitation boat and the application system were purchased from an Iowa company, Puck Custom Enterprises.
Using the company's MobileStar system, David can fine-tune the entire system — from the lagoon boat to the lead pump to a booster pump — from the applicator tractor display. It provides live readouts of inlet and outlet pressures, engine rpm and flow through each pump. With an Internet connection, he can start, stop, idle or throttle the engine and shut gate valves on the pump units from the tractor cab. It also monitors statistics for each engine, reporting such things as coolant temperature, oil pressure and fuel usage.
"I can see real-time data, and shut down the system if there is a problem," David says. "When I'm in the tractor pumping effluent, there is always one or more employee available at the site if we need help."
Manure is handled at the sow farms through shallow pit-recharge systems and is stored in earthen lagoons. Effluent from lagoons at the units is pumped to adjacent fields that typically will be planted to corn, and application rates match the needs of the crop. Each fall, a 550-hp, self-priming pump rig mounted on a trailer pulls effluent from the lagoon. A remote-control jib crane places the suction hose setup, a combination of 10-inch-diameter flexible hose and solid pipe, into the lagoon.
A booster pump placed midway in the hose system helps increase flow when effluent is pumped over long distances. Recent tests with 7-inch-diameter supply hoses and other improvements to the system allowed David to apply a peak rate of nearly 2,700 gallons per minute. "In just six hours, we applied 820,000 gallons of effluent," he says. "It's not unusual to apply a million gallons a day."
The Green Star system installed on the tractor not only guides the unit, but also maps the application. This system monitors the application rate in gallons per minute, as well as tracking acres that have received effluent, acres remaining and estimated time to complete the application.
Knifing in nutrients has boosted the bottom line as well. "Other than a little anhydrous ammonia application every now and then, there has not been a commercial fertilizer truck on the land that receives effluent in more than 32 years," David says. "The value of the fertilizer nutrients in the effluent runs about $120 per acre."
Solar setup
In 2013, a 25-kilowatt solar system was installed on the roof of the homeplace sow unit, spurred by financial incentives through a solar rebate offered by Kansas City Power & Light. Since then, freestanding and roof-mounted units have gone up to serve the Stephens's' home as well as the second sow site and other locations; five solar systems could be counted from the window of the airplane used to make aerial pictures for this story.
"As solar gets more efficient and more cost-effective, we should be able to do more solar installations," David says. "We have plenty of roof space. We're doing what we can to lower our carbon footprint, because every kilowatt that comes from solar is 'free,' and it is produced without causing pollution anywhere." One of those solar systems powers equipment at a truck-wash facility north of the home site. This off-site operation offers a chance to clean, disinfect and dry the fleet of trucks that delivers pigs.
In 2005, the Stephens operation was the first company in the United States to receive a vessel-type composter, a Biovator, for composting swine mortalities. This system replaced costly and high-maintenance incinerators while boosting biosecurity, since it eliminated disease risk from bringing a rendering truck on site. "The Biovator system offers environmental benefits and boosts air quality," David says. "The compost benefits soil conservation as a source of natural fertilizer."
Dicam controllers allow David to closely monitor various aspects of building management, including water use. The system is accurate enough to detect a problem as minor as a leaking nipple waterer.
Even rodent control gets a boost from technology. Like many swine units, these sow units use bait stations anchored to concrete blocks around the perimeters of buildings. But the Stephens farm has created an innovative way to monitor the system, identifying each station with a bar code. A computer program allows an employee to use a hand-held scanner to read each station as it is checked, automatically generating a time and date stamp. Other information such as rodent activity can be recorded, with the data downloaded to a spreadsheet.
Working with the Natural Resources Conservation Service, the sow sites have established windbreaks and odor abatement stands of trees and shrubs. These plantings not only add beauty to the sites, but also shelter a growing population of wildlife.
The Stephens family also goes the extra mile to maintain good relations with neighbors. "We are very aware that what we do on the farm affects those around us," David says.
"We provide dust-control measures on the roads around us, and help with snow removal on the county roads near us so employees can get to work. This allows the county to move resources elsewhere during storms."
It's all part of a long-term view that the Stephens family takes toward the farm. "We have been blessed to have raised our four children so they have seen the true meaning of being environmental stewards, by working along with us," David says. "We continue to maintain and improve our footprint on the environment, and strive to be good stewards of the land."
Subscribe to Our Newsletters
National Hog Farmer is the source for hog production, management and market news
You May Also Like
---