'18 Pig Farmers of Tomorrow have varied backgrounds, common passion
'18 Pig Farmers of Tomorrow have varied backgrounds, common passion
The U.S. pork industry's future is in good shape with the 2018 class of Pig Farmers of Tomorrow — Adam Krause, Emma Lasco and Christine Snowden.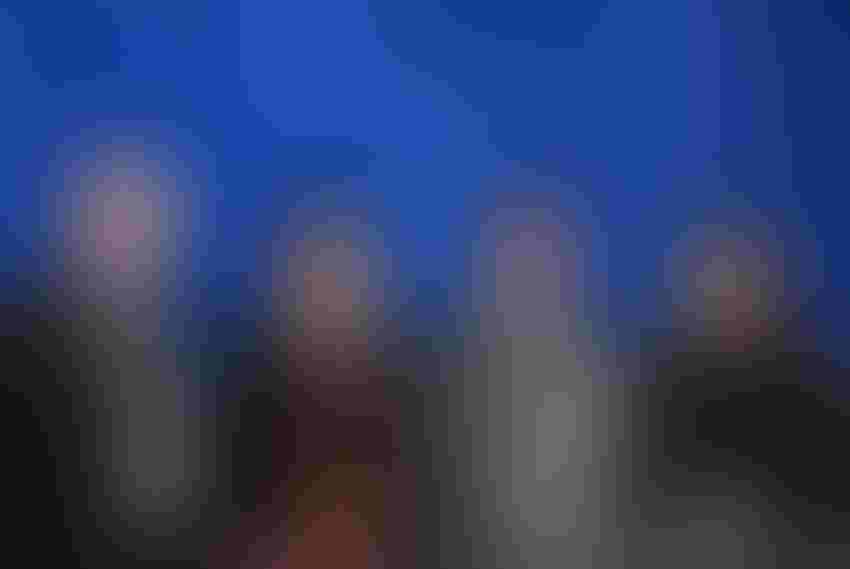 The 2018 class of the Pig Farmers of Tomorrow was introduced by Leon Sheets, America's Pig Farmer of the Year, at the Pork Forum in Kansas City, Mo. This year's class is (left to right) Christine Snowden, Adam Krause and Emma Lasco.
National Hog Farmer/Cheryl Day
U.S. agriculture has been challenged with finding a way bring youth back to, and to keep them on, the farm. Pork producers are leading this charge, and the future of the swine industry appears to be in good hands.
Three young people were named as the 2018 class of Pig Farmers of Tomorrow, recognizing farm leaders, ages 18-29, who intend to make pig farming their life's work and who are committed to raising pigs using the pork industry's We Care ethical principles.
Adam Krause of South Dakota, and Emma Lasco and Christine Snowden, both from Iowa, were introduced during the National Pork Industry Forum in Kansas City, Mo.
Lasco's journey to her current position as territory manager for Smithfield Foods Midwest Production in Roland, Iowa, began in a town in northeast Illinois, and internships in hog production are what lured her into her chosen field. Mentors are often responsible for pointing youth down a career path, and for Lasco one of those mentors was Tom Baas, a former animal science professor at Iowa State University.
"He's the person who gives you that drive to believe in yourself that you can do anything that you want," she says, "to chase after what you want. He's the reason that I'm here today."
When she came to ISU, she thought she would venture down the veterinarian route, but after interning in sow barns and finishing barns, she soon learned that she wanted to be hands-on with pigs.
Though she was not raised on a farm, her father's family has agriculture roots and she sees the importance of exposing people to agriculture and specifically pig farming "to give them a day in our boots. … I grew up with people who didn't have the knowledge or access to knowledge on agriculture, and I want to give them that."
"I want to give people a day in our lives," Lasco says. She feels her non-farm background may give her more credence with the audience pig farmers are hoping to reach, planning on using Facebook and Instagram.
Snowden, originally from Johnstown, Ohio, gained interest in the pig world through showing Spot hogs in 4-H. From the showring, she went to the Ohio State University majoring in animal science in the industry track. "Dr. Steve Moeller was my adviser and he really helped me guide my career into swine," she says.
She was hired as assistant farrowing manager for AMVC in Audubon, Iowa, in December of 2015, graduated from Iowa State in May 2016, "and two weeks later I was living in Audubon."
Snowden divides her message in two parts: She wants to show the public "what happens inside that farrowing room, and then why being in the swine industry is a great career to have." She's hoping to bring the public into the barns through Facebook Live, which she feels "is a great way to show people what's going on in the barn to gain their trust."
Being a pig farmer was the ultimate goal for Krause, but he was able to achieve it sooner than he had planned. In the fall of his junior year at the South Dakota State University in Brookings, his dad called wondering if "I wanted to come home over Christmas and start doing some planning and maybe build a barn. … that changed my life for the better."
Growing up on a row-crop and hog farm near Clear Lake, S.D., he majored in ag business with an animal science minor, with the intent "of probably getting a job in the industry and then transition back to the family farm. Obviously that opportunity came a little sooner than planned, and that has been a blessing." He is the fourth generation to join the family operation.
Though he has only been back on the farm for 18 to 20 months after the completion of his nursery barn, he feels now is the right time to be a Pig Farmer of Tomorrow. "I've been told that if you think you're busy now, just wait five years, you'll be that much more busy," he says. "I had a lot of people tell me to 'do it now or you're never going to do it'."
He leaned on fellow SDSU student Maddie Schafer, a member of the inaugural class of Pig Farmers of Tomorrow last year, for information on the expectations of the role. "I asked her how she liked the experience, what she was expected to do, what the time commitment was, and I thought it sounded like something that was really fun and very attainable."
Krause looks forward to having "a better conversation with pig farmers and consumers to bridge that gap about where their food comes from, and how to prepare a great pork meal. … I want to share what this great industry is all about."
"It is important for the Pork Checkoff to recognize the future leaders of the pork industry," says National Pork Board President Terry O'Neel, a pork producer from Friend, Neb. "We are excited for these young farmers to share their unique stories with consumers." The winners will speak at Pork Checkoff events and provide content on #RealPigFarming, which is the pork industry's social media program.
An industry panel of judges selected the 2018 Pig Farmers of Tomorrow, who all have had a Common Industry Audit completed on their farms.
Subscribe to Our Newsletters
National Hog Farmer is the source for hog production, management and market news
You May Also Like
---