USDA Appoints Pork Delegate Body for 2010
USDA Appoints Pork Delegate Body for 2010
Agriculture Secretary Tom Vilsack has announced the appointment of 154 pork producers and six importers to the 2010 National Pork Producers Delegate Body. All of the appointees will serve a one-year term. Appointments were based on nominations received from state pork producer associations and importer groups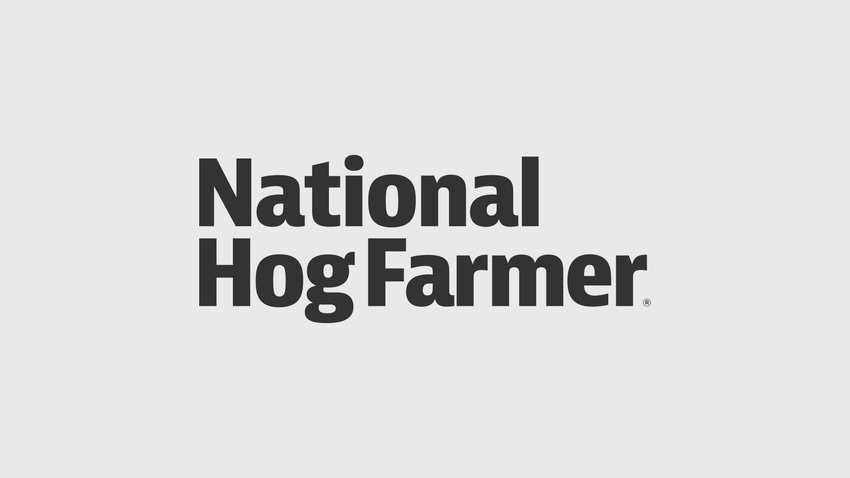 Agriculture Secretary Tom Vilsack has announced the appointment of 154 pork producers and six importers to the 2010 National Pork Producers Delegate Body. All of the appointees will serve a one-year term. Appointments were based on nominations received from state pork producer associations and importer groups.
Appointed members by state include:
Alabama: Luther Bishop, Joseph C. Hall;
Alaska: Patricia R. Worrell, Richard C. Worrell;
Arizona: Elizabeth J. Beck, Michael D. Terrill;
Arkansas: Steve C. Stephan, K. Brad Vines;
Colorado: Brett B. Rutledge, Keith A. Siemsen;
Delaware: Henry C. Johnson, IV, John B. Tigner Jr.;
Florida: Ricky Lyons;
Georgia: Glenn Derochers, Dania S. DeVane;
Hawaii: Wayne I. Simokawa, Evelyn A. Telles;
Idaho: Thomas A. Goodwin, Bradley K. Thornton;
Illinois: Phillip J. Borgic, David L. Conrady, David E. Dedert, Michael E. Haag, Brent E. Scholl, Mark L. DeDecker;
Indiana: Randy Curless, Emily D. Gaskill, Nathan D. Hedden, Michael S. Lewis, Samuel D. Moffitt, Mark R. York;
Iowa: Timothy J. Schmidt, Mark Meirick, Bryan K. Karwal, David D. Struthers, Stephen J. Burgmeier, Joel D. Van Gilst, Heather Lindberg-Hora, Rodney G. Dykstra, Howard T. Hill, Chad R. Keppy, Steven L. Kerns, Gregory R. Lear, Curtis D. Meier, David E. Moody, Oliver E. Moody, Dale G. Reicks, Marvin J. Rietema, Jamie M. Schmidt, Max S. Schmidt, Norman R. Schmitt, Gregory J. Schroeder, Leon C. Sheets, Derrick D. Sleezer, Scott W. Tapper, Bill J. Tentinger, Donald H. Toale, Eugene D. VerSteeg, John E. Vossberg, John P. Weber, Todd A. Wiley;
Kansas: Kent F. Condray, Alan J. Haverkamp, Peter K. Sherlock, Michael L. Springer;
Kentucky: Dennis O. Liptrap, John S. Medley, Jr.;
Louisiana: Rebecca D. Luke-Lirette, Louis J. Lirette;
Maine: Barrett A. Parks, Deena A. Parks;
Maryland: Thomas G. Hartsock, Charles T. Linthicum, Jr.;
Massachusetts: Lisa D. Colby;
Michigan: Fred H. Walcott, Patrick M. Hunter, Edward L. Reed;
Minnesota: Dustin Bakke, William L. Crawford, Pamela M. Gierke, Curtis J. Johnson, Craig A. Mensick, James F. Merritt, Mary Lynn Peichel, Douglas B. Stade, Patrick E. Thome, Jacqueline S. Tlam, Timothy A. Waibel, Douglas K. Wenner;
Mississippi: Ronnie K. Fagan, Charles R. Power;
Missouri: Scott W. Phillips, Robert L. North, Scott G. Hays, William D. Kessler;
Montana: Donald L. Herzog, John W. Rauser;
Nebraska: Dennis L. Beethe, Greg L. Wortman, Brett M. Wilke, Troy D. McCain, Shane C. Meyer;
Nevada: Becky A. Louk, David S. Louk;
New Hampshire: Donna Abair, Jennifer L. Lamper;
New Jersey: Salvatore J. Villari;
New York: Bryan L. Schillawski, Sandra L. Hartman;
North Carolina: Neill D. Westerbeek, Timothy H. Craig, Zack McCullen, III, Benjamin Outlaw, III, George H. Pettus, Gregory A. Sconyers, M. Todd See, E. Ray Summerlin, Jr., Janet C. Archer, David D. Herring, James L. Lamb;
North Dakota: Todd E. Erickson, Craig J. Jarolimek;
Ohio: Jim L. Albaugh, Michael J. Barhorst, Alan J. Evers, James R. Heimerl;
Oklahoma: Lonnie C. Hoelscher, Joe C. Popplewell, Basil S. Werner, Karen D. Brewer;
Oregon: Wynn H. Mayfield, Kathy S. Mayfield;
Pennsylvania: David A. Reinecker, Oscar J. Manbeck, Jeffrey D. Arner;
South Carolina: Larry B. DeHart, John R. Harris;
South Dakota: John D. Wipf, Ryan C. Storm, Laron R. Krause;
Tennessee: James G. Weaver, Brandon M. Whitt;
Texas: H. Melton Harms, Jason D. Pooley;
Utah: Ryan Goff, James W. Webb;
Virginia: Keith D. Allen, B. Ryan Horsley;
Washington: Karrie K. Klingeman, Paul M. Klingeman, Sr.;
Wisconsin: Deborah L. Gay, Robert G. Spurley;
Wyoming: Ana L. Shmidl, Krisha N. Custis;
Importers: David E. Biltchik, Stig H. Kjaeroe, Ole Nielsen, Albert F. Pish, Roland L. Schinbeckler and Jason E. Topolewski.
Established under the Pork Promotion, Research and Consumer Information Act of 1985, the Delegate Body and the National Pork Board have implemented a national program designed to improve the pork industry's position in the marketplace. USDA's Agricultural Marketing Service oversees operations of the Delegate Body.
The Delegate Body will be seated during the March 4-7, 2010 National Pork Industry Forum held in Kansas City, MO.
Subscribe to Our Newsletters
National Hog Farmer is the source for hog production, management and market news
You May Also Like
---