USDA appoints 159 to 2020 National Pork Producers Delegate Body
USDA appoints 159 to 2020 National Pork Producers Delegate Body
Representation is based on annual net assessments collected on sales of domestic hogs within individual states, with a minimum of two producers from each state.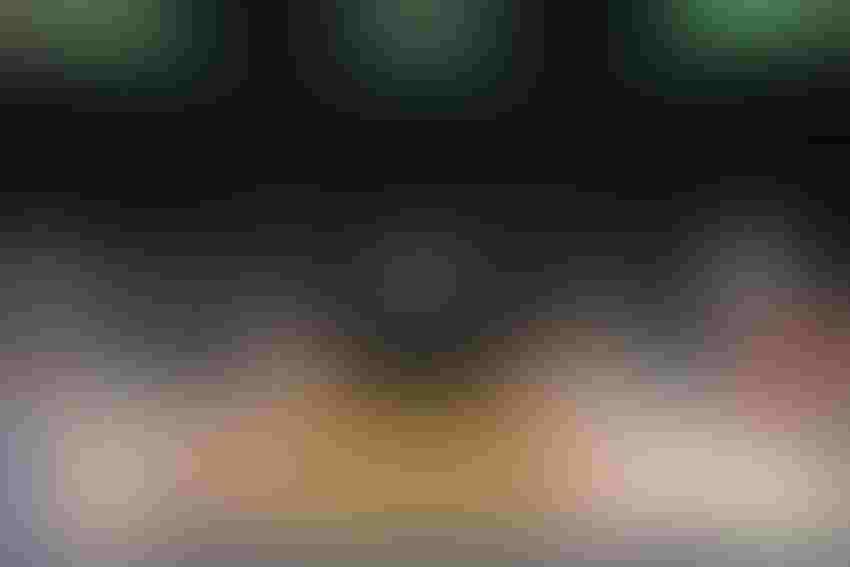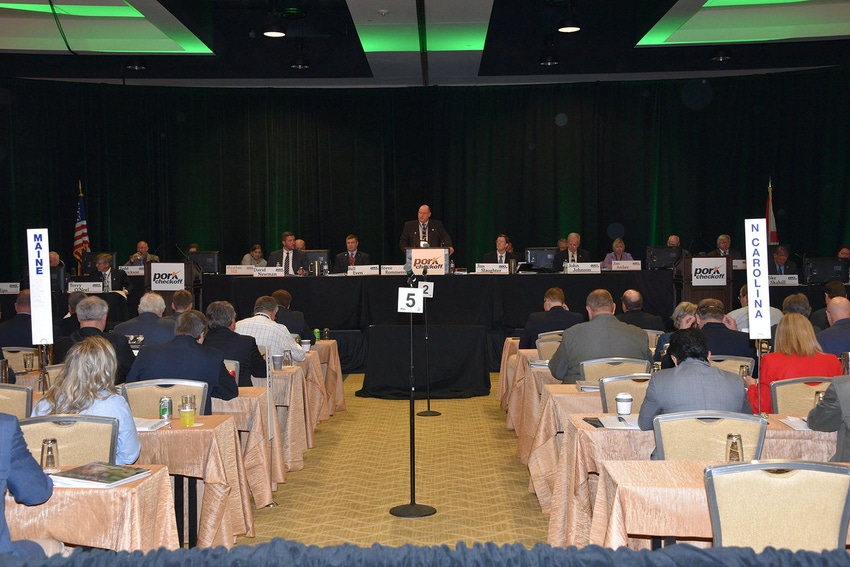 The USDA has announced the appointment of 154 producers and five importers to the 2020 National Pork Producers Delegate Body.
Delegates meet annually to recommend the rate of assessment, determine the percentage of assessments that state associations will receive, and nominate producers and importers to the Pork Board. Representation on the Delegate Body is based on annual net assessments collected on sales of domestic hogs within individual states, with a minimum of two producers from each state. States have the option of not submitting nominees.
Members appointed to serve one-year terms are:
Alabama: Daniel Tubbs, Oakman; Wesley Gates, Pickensville
Alaska: Rich C. Worrell, Wasilla; Pattie R. Worrell, Wasilla
Arkansas: Clayton R. Bailey, Mountainburg; Charles Metz, London
Arizona: Shannon Schulz, Tonopah; Alfredo Sotomayor, Lakeside
California: Aaron Prinz, Woodland; Chance Reeder, Ripon
Colorado: Andrea Anderson, Wray; Ian Mackay, Holyoke
Connecticut: Hazel Secchiaroli, Waterford; Jonathan G. Secchiaroli, Waterford
Delaware: John B. Tigner Jr., Hartly; Henry Clay Johnson IV, Selbyville
Florida: Tommy Crawford, Lake Butler; Kyle M. Mendes, Gainesville
Georgia: Dania DeVane, Cuthbert; Mark Clemmer, Broxton
Hawaii: Kaylen M. Souza, Waianae; Ronald B. McKeehan Sr., Honokaa
Idaho: Brittney Murphy, Burley; Logan Thornton, Kuna
Illinois: Jason Propst, Toledo; Thomas Titus, Elkhart; Pamela S. Janssen, Minonk; Dale Weitekamp, Raymond; Alan Kollmann, Altamont; Mike Woltmann, Kingston.
Indiana: Jeremy Bartlett, Brookston; Nathan Hedden, Battle Ground; Joe Mann, Cloverdale; Nick Maple, Amboy; Nicholas E. Tharp, Coatesville; Bill Tempel, Gentryville
Iowa: Joe Rotta, Merrill; Kevin L. Lewis, Goldfield; Edward E. Juhl, Hudson; Trish Cook, Winthrop; Aaron Juergens, Carroll; Ryan Pudenz, Ames; Joel Van Gilst, Oskaloosa; Mike Paustian, Walcott; Tim Bierman, Larrabee; Howard T. Hill, Cambridge; Jim Hogan, Monticello; Gregg K. Hora, Fort Dodge; Steven Kerns, Clearfield; Greg Lear, Spencer; Rod Leman, Fort Dodge; Dennis Liljedahl, Essex; Curtis Meier, Clarinda; Mark Meirick, Protivin; Dwight Mogler, Alvord; David Moody, Nevada; Dale Gerard Reicks, New Hampton; Marv Rietema, Sioux Center; Jamie Schmidt, Garner; Timothy J. Schmidt, Hawarden; Leon C. Sheets, Ionia; Dave Struthers, Collins; Trent Thiele, Elma; Marv Van Den Top, Boyden; Al Wulfekuhle, Quasqueton; Mike Ver Steeg, Inwood
Kansas: David Hartter, Sabetha; Roy J. Henry, Longford; Kenton McKee, Goff; Michael Springer, Neodesha
Kentucky: Eric Heard, Auburn; Benji Hudnall, Bowling Green
Maine: Michael Hemond, Minot; Brittany Hemond, Minot
Maryland: Andy J. Bauer, Dayton; Michael Stoner, Taneytown
Michigan: Pat Albright, Coldwater; Edward L. Reed, Three Rivers; Ryan Hunter, Vicksburg
Minnesota: Pat FitzSimmons, Dassel; Reuben Bode, Courtland; Bradley L. Hennen, Ghent; JoDee Lynn Haala, New Ulm; Chris Compart; Nicollet; Wanda Patsche, Welcome; Brian Schwartz, Sleepy Eye; Myrna Jean Welter, Stewartville; Brian Johnson, Walnut Grove; Dan Helvig, Truman; Galen Johnson, Dodge Center; Meg E. Freking, Alpha; Greg Boerboom, Marshall
Mississippi: Sean Boe, Moselle; Terry Emerson, West Point
Missouri: Adam Dohrman, Sweet Springs; Francis Forst, Lamar; Donald L. Laut, Jr., Fredericktown; Dean Rehmeier, Augusta
Montana: Jacob A. Waldner, Havre; Peter J. Wipf, Carter
Nebraska: John Csukker, Shelby; Darin Uhlir, Saint Paul; Connor J. Livingston, Fairbury; Aaron Reichmuth, Humphrey; Michael R. Luckey, Columbus
Nevada: Katherine Combs, Las Vegas; Sarah Stallard, Las Vegas
New Hampshire: Alicia Pedemonti, Hopkinton
New Jersey: Kirk Stephens, Sussex
New York: Brian E. Bontrager, Darien Center; James Luckman, Gasport
North Carolina: Don Butler, Clinton; James L. Lamb, Clinton; Everett H. Johnson, Siloam; Jay Archer, Tarboro; Gaye D. Crowther, Tabor City; Michael Eugene Inman, Tar Heel; Brian J. Kennedy, Pink Hill; Jim H. Lynch, La Grange; Jared Porter, Concord; M. Todd See, Raleigh
North Dakota: James P. Clay, Bisbee; Kenneth Reistad, Larimore
Ohio: Josh Berry, Pleasantville; Kenneth M. Garee, Sunbury; Janel Hord, Bucyrus; Nick Seger, Sidney
Oklahoma: Angie Johnson, Holdenville; Tina Falcon, Tecumseh; Joe Popplewell, Stillwater.
Oregon: Ray J. Blake, Newberg; Jennifer L. Blake, Newberg
Pennsylvania: Ben Barcovtch, Lock Haven; Jeremy A. Ranck, Christiana; David A. Reinecker, York Springs
South Carolina: Gary Curtis Lee, Jr., Alcolu; Mark A. McLeod, Pinewood
South Dakota: Ferlyn Hofer, Canistota; Paul Wipf, Frankfort; Shane Odegaard, Lake Preston
Tennessee: James Mathis, Duck River; Dolly Jane Barnes, Selmer
Texas: Peter C. Baumert, Dalhart; Douglas Schaefer, Garden City
Utah: Rosa Cazares, Milford; Ryan Goff, Cedar City
Virginia: Jessica Cunningham, Elberon; R.O. Britt, Williamsburg
Washington: Paul R. Knittel, Davenport, Wash.; Jill M. Knittel, Davenport, Wash.
Wisconsin: Brian Klubertanz, Waterloo; Nathan P. Brickl, Prairie du Sac
Wyoming: Damein Christensen, Riverton; Jim Pannell, Hulett
Importers: Frank Jensen, Hoboken, N.J; Ole Nielsen, Madison, N.J.; Joseph A. Arthur Khayat, Secaucus, N.J.; Rich Maebert, South Orange, N.J.; Petruce, Freeland, Pa.
The National Pork Board and the Delegate Body were established under the Pork Promotion, Research, and Consumer Information Act of 1985. By law, USDA's Agricultural Marketing Service oversees operations of the Pork Board and the Delegate Body.
Source: USDA Agricultural Marketing Service, which is solely responsible for the information provided, and wholly owns the information. Informa Business Media and all its subsidiaries are not responsible for any of the content contained in this information asset.
Subscribe to Our Newsletters
National Hog Farmer is the source for hog production, management and market news
You May Also Like
---