New USDA undersecretary trade position announced
New USDA undersecretary trade position announced
Perdue reveals plans for USDA reorganization.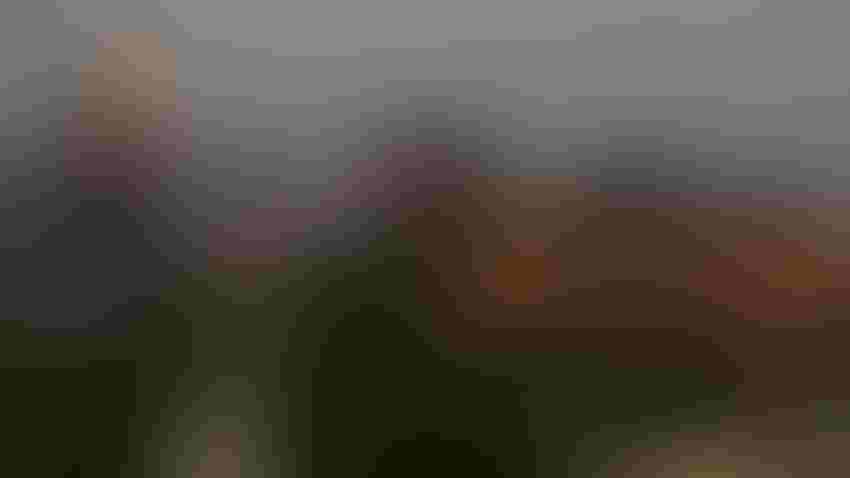 Cincinnati, OH, on May 9, 2017. USDA Photo By Lance Cheung.
USDA Photo By Lance Cheung.
Compiled by Cheryl Day
U.S. Secretary of Agriculture, Sonny Perdue, announces a reorganization of USDA, including the creation of undersecretary for trade and foreign agricultural affairs position. The announcement is welcome news to many agriculture organizations.
In a Wall Street Journal op-ed, Farmers Know the Benefits of Trade, Secretary Perdue laid out his plans for the reorganization saying, "We're creating a new undersecretary for trade and foreign agricultural affairs, whose focus will be on promoting U.S. food, fiber and fuel around the world. This realignment will help me, as agriculture secretary, to be an unapologetic advocate for American products. My message for farmers is simple: 'You grow it and we'll sell it.'"
Speaking in Cincinnati, Ohio at Consolidated Grain and Barge, Perdue announces three major changes to the USDA.
Undersecretary for Trade and Foreign Agricultural Affairs
Agricultural trade is critical for the U.S. farm sector and the American economy as a whole. U.S. agricultural and food exports account for 20% of the value of production, and every dollar of these exports creates another $1.27 in business activity. Additionally, every $1 billion in U.S. agricultural exports supports approximately 8,000 American jobs across the entire American economy. As the global marketplace becomes even more competitive every day, the United States must position itself in the best way possible to retain its standing as a world leader.
"Our plan to establish an undersecretary for trade fits right in line with my goal to be American agriculture's unapologetic advocate and chief salesman around the world. By working side by side with our U.S. trade representative and Secretary of Commerce, Wilbur Ross, the USDA undersecretary for trade will ensure that American producers are well equipped to sell their products and feed the world," Perdue says.
USDA's reorganization seeks to place agencies in more logical order. Under the existing structure, the Foreign Agricultural Service, which deals with overseas markets, and the Farm Service Agency, which handles domestic issues, were housed under one mission area, along with the Risk Management Agency. It makes much more sense to situate FAS under the new undersecretary for trade, where staff can sharpen their focus on foreign markets.
Undersecretary for Farm Production and Conservation
Additionally, a new undersecretary will be selected for a newly-named Farm Production and Conservation mission area, which is to focus on domestic agricultural issues. Locating FSA, RMA, and the Natural Resources Conservation Service under this domestically oriented undersecretary will provide a simplified one-stop shop for USDA's primary customers, the men and women farming, ranching and foresting across America.
"The men and women of American agriculture are hardy people, many of whom were born into the calling of feeding America and the world," Perdue says. "Their efforts are appreciated, and this adjustment to the USDA structure will help us help them in even better ways than before."
Under the reorganization plan, the undersecretary for natural resources and environment will retain supervision of the U.S. Forest Service. A reduction in USDA workforce is not part of the reorganization plan.
Elevating Rural Development
Just as importantly, the USDA reorganization will elevate the Rural Development agencies to report directly to the secretary of agriculture to ensure that rural America always has a seat at the table. Fighting poverty wherever it exists is a challenge facing the United States, and the reality is that nearly 85% of America's persistently impoverished counties are in rural areas. Rural childhood poverty rates are at their highest point since 1986, affecting one in four rural children, with deep poverty among children being more prevalent in rural areas (12.2%) than in urban areas (9.2%). The vitality of small towns across our nation is crucial to the future of the agricultural economy and USDA must always argue for the needs of rural America.
"The economic health of small towns across America is crucial to the future of the agriculture economy. It is my commitment to always argue for the needs of rural America, which is why we are elevating Rural Development within USDA," says Perdue. "No doubt, the opportunity we have here at the USDA in rural development is unmatched."
Ag organizations support new USDA position
The National Pork Producers Council and others in agriculture have advocated in the 2014 farm bill for establishing within USDA an undersecretary for trade and foreign agricultural affairs.
Clearly, the Trump administration recognizes the importance of exports to U.S. agriculture, which has a trade surplus," states Ken Maschhoff, NPPC president and Illinois pork producer. "The new undersecretary can help convey our message to the administration that it should work to preserve and expand foreign market access for U.S. agricultural products."
North American Meat Institute President and CEO, Barry Carpenter, praised the announcement that USDA will establish an undersecretary for trade and foreign agricultural affairs. The Meat Institute has actively supported creating the position for many years and joined with several food and agriculture industry partners in a February letter to President Trump urging the administration to reorganize USDA's trade structure as required by a provision in the 2014 farm bill. USDA's trade roles have remained unchanged since the last reorganization in 1978.
"USDA's current trade structure is outdated and needs streamlining to keep pace with the current trade challenges in the global marketplace," says Carpenter. "An undersecretary for trade will bring unified high level, agriculture-focused representation to key trade negotiations with senior, foreign officials and within the Executive Branch to help grow trade opportunities around the world."
The National Grain and Feed Association and North American Export Grain Association also commend Perdue for his "decisive and prompt" action.
"It is highly significant that one of Secretary Perdue's first actions reflects his recognition of, and strong support for, the essential role that agricultural trade plays in the economic well-being of U.S. farmers, ranchers, agribusinesses, rural communities and the nation as a whole," says NGFA President Randy Gordon and NAEGA President and Chief Executive Officer Gary Martin. "Reorganizing its structure and mission areas along these more functional lines, combined with the appointment of strong and capable officials to fill these positions, will help ensure the ongoing success of USDA programs that support trade and  that USDA plays an influential role in helping inform and develop the Trump administration's overall trade strategies."
The agriculture organizations look forward to working with the undersecretary to advance trade policies that will be beneficial for U.S. agriculture, including free trade agreements that eliminate all tariff and non-tariff barriers to our products.
Subscribe to Our Newsletters
National Hog Farmer is the source for hog production, management and market news
You May Also Like
---