ISU VDL to receive $40 million in funding to complete Phase 2
ISU VDL to receive $40 million in funding to complete Phase 2
Full-service laboratories at the VDL process upwards of 100,000 cases each year and conduct more than a million tests annually.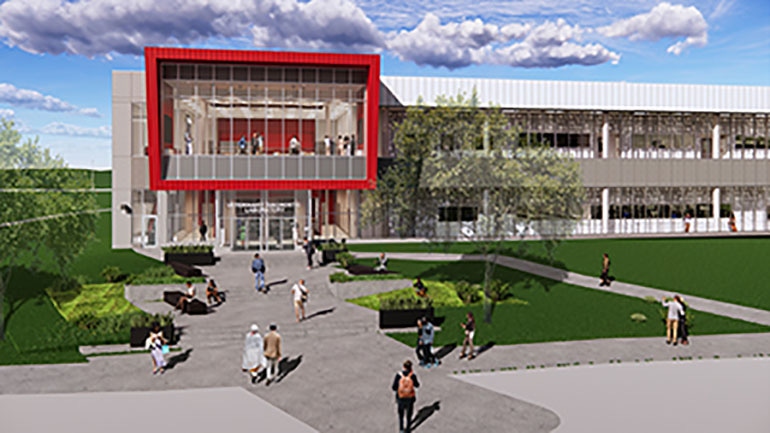 Architect rendering of the public entrance to the new Veterinary Diagnostic Laboratory at Iowa State University.
Iowa State University College of Veterinary Medicine
Governor Kim Reynolds has announced $40 million in funding to help complete Phase 2 of Iowa State University's Veterinary Diagnostic Laboratory. Reynolds has also proposed in her budget an additional $20 million from the Rebuild Iowa Infrastructure Fund — $10 million in FY24 and $10 million in FY25 — to total $60 million in state support for the VDL project. Funding for this initial investment is being made available through the federal American Rescue Plan Act. 
"The Veterinary Diagnostic Lab is absolutely critical to support and protect our state and country's agriculture industry and food supply," said Reynolds. "This investment will significantly expand the VDL's capacity to support Iowa's $32.5 billion animal agriculture industry and will keep this nationally-recognized lab on the forefront of cutting-edge technology. Iowa will remain a global leader in agriculture, combatting foreign animal diseases, and recruiting and retaining veterinary talent."
"We are deeply grateful to Governor Reynolds for allocating these critical resources to construct Phase 2 of the Veterinary Diagnostic Laboratory," said Iowa State University President Wendy Wintersteen. "This funding will help ensure the VDL can continue to provide cutting-edge services and support to Iowa's livestock and poultry producers."
"The Veterinary Diagnostic Laboratory is enormously important to Iowa's nation-leading livestock industry and provides immeasurable expertise on worldwide animal health and food safety issues. I want to thank Gov. Reynolds for making this critical piece of infrastructure a high priority," said Iowa Secretary of Agriculture Mike Naig. "Our close partnership with the Veterinary Diagnostic Lab has been essential in implementing our response to the highly pathogenic avian influenza outbreak and we rely on their team's recommendations as we enhance our preparedness for other foreign animal disease threats." 
Fully accredited by the American Association of Veterinary Laboratory Diagnosticians, the VDL provides quality diagnostic services for animal species, including necropsy, bacteriology, serology, histopathology, virology, parasitology, molecular diagnostics and toxicology as well as offering analytical services. The full-service laboratories at the VDL process upwards of 100,000 cases each year and conduct more than a million tests annually. 
"Pig farmers and cattle producers across Iowa are extremely grateful Governor Kim Reynolds is providing significant financial support to upgrade Iowa State University's Veterinary Diagnostic Lab and we hope the Iowa legislature will join her in providing additional funding, as she has proposed," said Iowa Pork Producers Association President Kevin Rasmussen, a farmer from Goldfield, and Iowa Cattlemen's Association President Bob Noble of Riceville, in a joint statement.
"The new state-of-the-art facility will keep Iowa State at the forefront in helping recognize foreign animal diseases that threaten the nation's food supply well into the future. We sincerely appreciate her efforts and willingness to keep animal and human health as top priorities."
Subscribe to Our Newsletters
National Hog Farmer is the source for hog production, management and market news
You May Also Like
---