Clemson students turn to swine center to study human breast cancer
Clemson students turn to swine center to study human breast cancer
This research has been underway for only two semesters, but cancer research experts already are taking note of the students' study.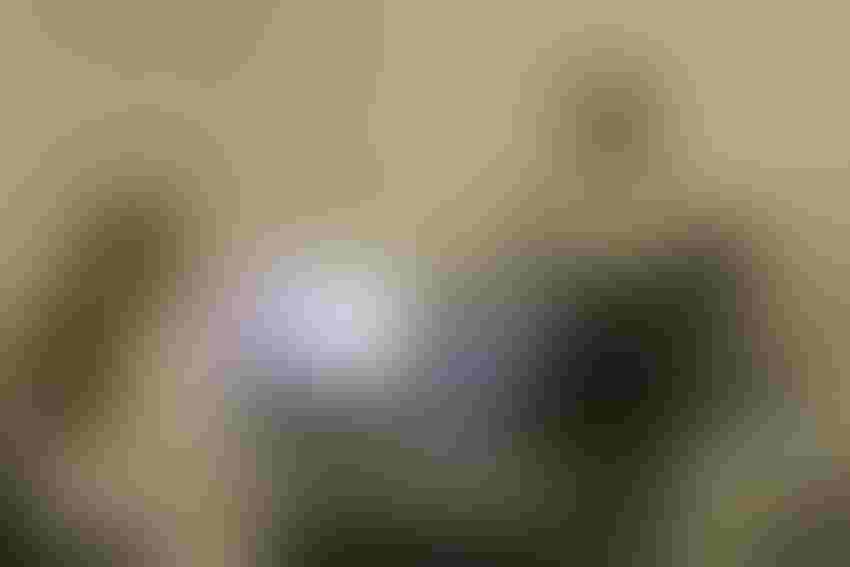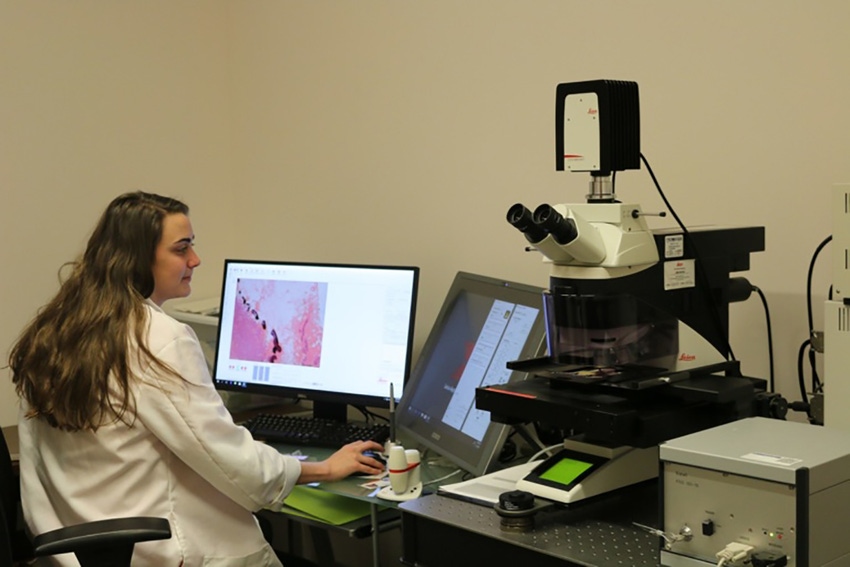 Shelby Smith of Huntsville, Ala., uses equipment in Clemson's Light Imaging Facility to view slides from her mother's breast biopsy and compare human cells to swine cells.
Clemson College of Agriculture, Forestry and Life Sciences
A team of Clemson University Animal and Veterinary Sciences students has turned to their school's farrow-to-finish unit for answers in an innovative undergraduate research project that could lead to discovery, advance their careers and propel them to the world stage.
The students are comparing swine mammary gland genes to genes found in human breast cancer profiles and are participating in the Bioinformatics for Cancer Genomics Creative Inquiry project. Their research uses a novel approach to study the mechanism that causes mammary glands to develop as a way to understand and possibly halt the growth of aggressive breast cancer cells.
"From the time we are conceived, through birth and up to puberty, our cells are changing, growing and establishing new patterns of signals," says Heather Dunn, a senior lecturer in the Clemson Animal and Veterinary Sciences Department. "This cell conversion is called the epithelial-mesenchymal transition, or EMT. When this transition occurs, cells have the ability to migrate to other parts of the body and divide. Research confirms that this process also occurs during cancer and is believed to be the early initiating step in the development of triple negative breast cancer, or TNBC."
Using a minimally invasive biopsy technique invented by Dunn and patented by Clemson University, as well as an array of Clemson University laboratories and imaging facilities, the students are studying the mammary cells of prepubescent swine to unlock the mystery of EMT in cancer. The ultimate goal is to someday be able to cease the EMT process in triple negative breast cancer cells.
The swine genes are compared to genes found in human breast cancer profiles. Previous studies used mice samples, but swine mammary gland tissue more closely resembles human mammary gland tissue. Tissue samples are collected using the Dunn Biopsy Method and analyzed in various Clemson laboratories.
Joining Dunn in the research project are Sabrina Carrel, Paula Lewis, Hanna Oswalt, Brooke Redmond, Shelby Smith and Amber Stone.
Utilizing Clemson resources
Field and lab work begin when mammary gland genes are collected from pigs at Clemson's Starkey Swine Center using the Dunn Biopsy Method. This method was created by Dunn and currently filed as a provisional patent through the Clemson University Research Foundation.
Once samples are collected, multiple laboratories are used to process the tissue. The Animal and Veterinary Science Histology Core Facility is where the students prepare the samples for analysis.
"This lab is where we embed the tissue samples in paraffin wax to preserve the tissue for storage and later use," Redmond says. "It is also where we slice the samples and put them on slides just before we stain them so that they can be observed under a microscope. We have to be able to analyze samples we've collected and what we're doing in this lab allows us to do that."
In the Clemson Light Imaging Facility, cells are selected and extracted using a laser microdissection microscope for analyses.
"We use the microscope to laser cut out different cell populations so that we can determine molecular events from different populations of cells," Smith says. "This will help us understand how the cells communicate with their environment."
Smith's mother died from breast cancer in 2003. She found slides from her mother's biopsies and is including these slides in the Creative Inquiry study. Equipment in the Light Imaging Facility is used to view the slides and compare human cells to swine cells.
"It's helpful to be able to see real human cancer cells," Smith says. "My mom died when I was 5 and ever since then I just really want to know about it and I want to cure cancer."
Once cell samples have been collected and data compiled, the students use bioinformatics to analyze their data. Programs such as the National Cancer Institute's Genomic Data Commons Data Portal are used to compare the swine mammary genes to human mammary genes. This portal allows interactive analysis and data visualization specifically identifying gene mutations, frequencies and expression networks.
This research has been underway for only two semesters, but cancer research experts already are taking note of the students' study. The students have been invited to present at the Keystone Symposia of Molecular and Cellular Biology conference in Florence, Italy, March 15-19, where they will present "Evaluation of swine mammary glands: A model for development, cancer and environmental cues."
Triple negative breast cancer is the only type of breast cancer that lacks a specific Federal Drug Administration approved drug for treatment. This aggressive form of cancer has a high mortality rate and is associated with racial disparities — occurring in 23% of African American women and just 12% in other races.
Sources: Clemson University, who are solely responsible for the information provided, and wholly owns the information. Informa Business Media and all its subsidiaries are not responsible for any of the content contained in this information asset.
Subscribe to Our Newsletters
National Hog Farmer is the source for hog production, management and market news
You May Also Like
---