Blomme looks to have voice for the industry
Blomme looks to have voice for the industry
Rising Star: Creating her own path, paving her own way.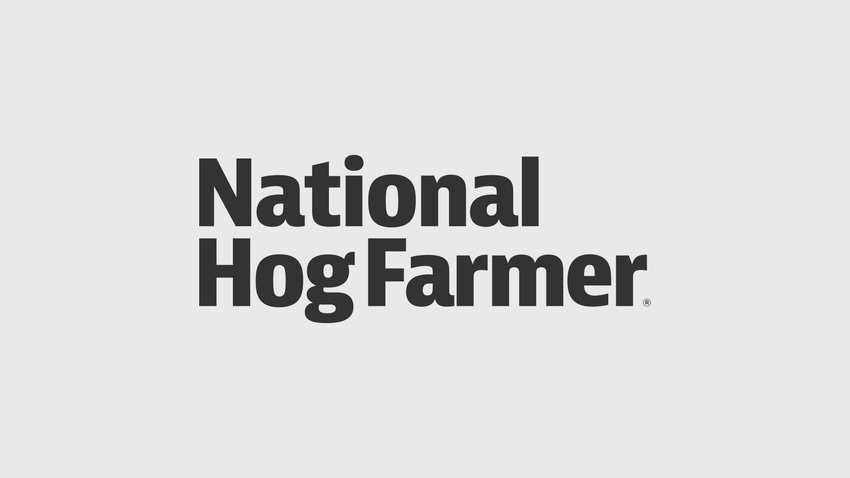 After spending a few months in a laboratory setting, Allison Blomme realized that she was missing agriculture and working with animals. Now, she is preparing to start the next chapter in her life as she starts at Kansas State University in the fall, to work on a master's degree in grain science.
Courtesy of AMVC
It didn't take too long for Allison Blomme to realize that life in a lab was not for her. Two months, as a matter of fact, after Blomme had spent eight hours a day in a laboratory at Covance, a contract research firm in Madison, Wis., was long enough for Blomme to know that she didn't want to spend all her time in a laboratory.
"I learned it pretty quickly. Despite that, I really enjoyed being in Madison and felt that I still had a lot I could learn about commercial research," she says. 
Blomme was raised in Audubon, Iowa, where her father, Bob, started as a veterinarian at AMVC Veterinary Services. She spent a fair amount of time working with pigs.
"We finished pigs, so in high school, me and my siblings would load up pigs at four in the morning, and then go into school and do sports practices, and come back and sort pigs for the next day or two," she says, admitting that experience spurred her interest in animal health.
In an email, Trey Kellner, AMVC Nutritional Services swine nutritionist, says "Allison is extremely bright and personable, which makes her an outstanding communicator from the boardroom to the slat level." That endorsement and her move back to the livestock world makes Blomme one of this year's rising stars in the swine industry.
She took up genetics and microbiology at Iowa State University, graduating in 2018, and she thought undergraduate work would set her on a path toward veterinary pathology or swine nutrition.
Other than finishing hogs while growing up, Blomme didn't have exposure to the nutrition side of the industry, so she opted down the pathology path.
"I was thinking if that was the route that I wanted to go, that I wanted to be in industry. I wanted to work for companies that are developing vaccines or drugs that will impact animal health," she says, and that is how she ended up at Covance in the clinical pathology department. "I got some really great, largescale research experience, and got to see what the veterinarians in that industry were doing. The whole experience made me realize that I wanted to be able to have a different challenge each day and work with a variety of people."
Missed agriculture
Even though she realized early on that she wasn't built for working in a lab, she spent almost two years with Covance.
About a year ago, she took the opportunity to shadow Trey Kellner, AMVC Nutritional Services swine nutritionist, to get a glimpse into the world of swine nutrition. That glimpse also convinced Blomme that she "missed agriculture."
"I missed being able to actually work with animals, and not necessarily just develop things that improved their health, but I like being able to span that board of having higher-level conversations with people who are looking at the business side of things — or the research side of things, more specifically," she says. "And then also being able to go into a barn and talk to the people who are actually working with those animals every single day."
Piquing her interest in swine nutrition led her back to Audubon, where she is currently a nutrition intern for AMVC. That started in May and will conclude this month, when she starts graduate school at Kansas State University working under Chad Paulk in the grain science department.
No reliance on connections
As mentioned before, Blomme's dad, Bob, is a veterinarian with AMVC — and yes, she is currently an intern with the company. But she neither wants to nor tries to use her last name and the implied connections to get where she wants to go.
"I definitely learned that contacts aren't a bad thing, so that has been really beneficial. I'll be real honest about that," she says. 
However, when she reached out to K-State professors Bob Goodband and Mike Tokach about the possibility of attending grad school, "I just emailed them as myself and didn't mention him [her father] at all. … I know he knows both of them, but I was just like, these are two people that I really would love to work for and work under, and I just 'cold-emailed' them."
Though Blomme doesn't use her father to pave her path, she's smart enough to use the great resource at her fingertips. "I use him more as a resource of like, 'Here's what I'm thinking. Does this make sense?'" she says, "and less of, 'Hey, can you introduce me to these people?' Because I feel that I'm capable of doing that myself."
Bob Blomme has been a sounding board for his daughter as she winds her way to a career path, but she says he never attempted to steer her toward a veterinarian career.
"He started out as a large-animal veterinarian and he worked a lot with cattle, and he always told us, 'Don't ever have a job where you have to be on call,'" she says. "We all saw what that looks like. As a large-animal vet during calving season, you get called out whenever, potentially all night. … so I think that was something he didn't necessarily want for his kids."
With Blomme pursuing the swine nutrition route and her older brother in medical school, "I don't know how well that message sunk in." 
Though she didn't graduate from ISU with a degree in swine nutrition, she was bitten by that bug during her junior year, "when I was in some of my animal science classes for my minor," she says.
She attended Iowa Swine Day one year during college, and a lecture by a Danish veterinarian who talked about "restrictions on antibiotics in their country, and how they were starting to try and use feed to improve herd health, and really put more focus on nutrition, to do that than pharmaceuticals. … that was where a lightbulb started to go off in my head. 
"'Oh wait, this is a really cool path that I don't have to go to vet school for. I don't have to be necessarily as broad as that is, but I can still have that impact in animal health at the same time.'"
Allison Blomme looks forward to serving the swine industry in some capacity, whether it be with a nutrition company, production company or regulatory organization. Wherever she lands, she aims to be a voice for the industry.
Future plans
Blomme will start at K-State this month, and she is looking at the next two to three years to be working in Chad Paulk's lab and with the rest of the swine nutrition team at Manhattan. Will a master's degree from K-State be the end of her education?
"I'm trying to keep my options pretty open right now," she says. "I've definitely learned that if I put too much of a path ahead of me, I kind of box myself in — but right now I'm thinking that after this grain science master's, I want to do a more dedicated nutrition Ph.D."
While working on her master's degree, she plans to dive into feed mill biosecurity, "making sure our feed is safe and not transmitting diseases from mill to farm."
Blomme values the gap years she took between getting her undergraduate degree and going for her master's. "Taking the gap years after undergrad is really, really helpful, because I feel like I'm going in with a clear idea of what level I actually want to be at once I'm done with school.
"This may change, as I might get my master's and see all the career options and be like, 'Nope, I'm good here.' But today, I would say I will probably go straight to that Ph.D."
Then what?
"I think working for a company like AMVC would be great. I like the amount of variety that I see that everyone in their roles has," she says. In working with Covance, which has multiple U.S. and global locations, and AMVC with two main locations and 20-plus veterinarians, she has definitely seen the contrast in size of operations.
"I kind of realized [Covance] was a little too big for me, but a smaller company than AMVC might be a little too small for me, especially right after school."
Where will we see Blomme's rising star land in, say, 10 years? 
"My crystal ball's a little cloudy on that. I would really like to be able to take this feed biosecurity work that I'm going to be doing and run with that," she says. "I think my microbiology  background is going to be really beneficial there, and it would be great down the line to be able to help be a resource or develop action plans for if we do have a foreign animal disease outbreak in the U.S., on how that's going to look for nutrition.
"That's going to kind of vary based on the state and what their state vet is going to want, but I think that would be really interesting and fulfilling to be able to do. That's obviously very, very specific, so I don't know what my role would be beyond that, but I think that would be very interesting to be able to have a hand in or help with [it]."
Whether that means working for a nutrition company, a swine production company, a state board of animal health or even a pork organization, Blomme is looking forward to being or providing a voice for the swine industry.
Subscribe to Our Newsletters
National Hog Farmer is the source for hog production, management and market news
You May Also Like
---