Placement huge in slat floor deficiencies
Placement huge in slat floor deficiencies
Placement, age and quality of product, and product deficiencies are the main reasons that concrete slatted hog floors have failed and collapsed.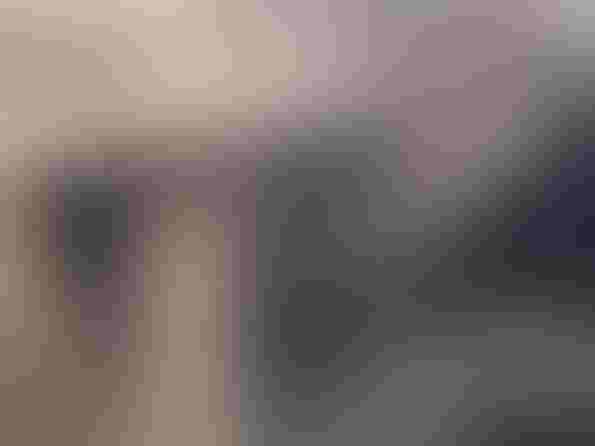 <p>Proper placement of the floor support beam in the supporting post would have prevented this floor collapse.</p>
An inch or two does not sound like much when you talk about the size of today's hog barns. But those few inches have helped build a decent business for Altenburg Construction of Lewisville, Minn.
Andrew Altenburg, founder and president of his construction company that bills itself the "slat replacement professionals," has found the significance that an inch or two can play in the structural integrity of hog slats or slat floor supports. Though he appreciates the business, he really wants to stress the safety concerns to producers of what he has seen happening in barns across hog country.
"Attitudes of the past were that concrete is strong and it will last forever. I heard that time and time again," he says. "My reaction is that I want to inform these people that it doesn't last forever, and educate them as much as I could."
Altenburg contends there are three main reasons that his firm, and others doing similar work, are staying busy.
1. Placement, or misplacement
2. Age and quality of product
3. Product deficiency
There are a few different concerns when Altenburg and Tyler Sauck, project manager with Altenburg Construction, talk placement. The first concern is the placement of rebar within the concrete slats and support beams.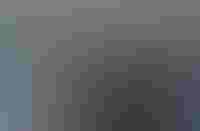 According to Jay Harmon, Iowa State University professor of Ag & Biosystems Engineering, the American Concrete Institute does have such standards for rebar placement in concrete, and he admits that hog slat design and quality has improved over the years, from the beginning when companies adept at making concrete started making hog slats to meet the industry's demand.
Harmon says there is not a slat size standard, but more of an industry standard for load capacity, which if it's met, "any size can work."
With no set standards, Sauck says "rebar needs to be in the right area of the slat to be able to carry the load." He says the rule of thumb is that the rebar should be placed in the concrete with 1 inch to 1 ½ inches of concrete on all sides.
Quality of slats has improved over the years of modern hog production, and Altenburg's company works with many, placing slats from 12 different companies last year. He expects his four crews this summer will replace 20,000 slats this year.
Top-quality slats can still fail if corners are cut in the structure below the slats. Altenburg and Sauck have seen unsatisfactory workmanship in the inadequate depth of the pocket on end walls to hold floor support beams. "A lot this stuff built in the 1990s and 2000s, we see a tremendous amount of what I call 'people not knowing what they were doing.' That pocket should be three to four inches deep and we have seen some that are only 1 ½ deep which is not sufficient," Altenburg says.
Another concern Altenburg crews have run across is the placement of floor support beams on the posts in the pit. "You want to see the beams relatively centered on the posts," Altenburg says. "Slat manufacturers will tell you that they want to see a bare minimum of three inches of beam bearing on that post. With your slats you want to see a minimum of two inches bearing on that outside edge."
The reason for that preferred measurement is that the rod (rebar) located in the concrete structure would bear the weight. "If you have less than that, you're asking the concrete to bear the load, which it's not meant to do. It will fail in time," Sauck says. Keep in mind the rod within the structure should go within an inch of the end of the structure for optimum strength.
In new construction, Altenburg recommends that contractors forgo support beam pockets on the end walls all together, instead opting for a separate support post placed on the end walls. "If the contractor still wants to put beam pockets on the end wall, that's fine, but if you put a 12-inch square post on the end wall, there is no question that it is not going to fail," he says.
Placing a 12-inch post on the end wall, rather than merely pockets would have helped avoid some of the collapses Altenburg's crews have seen. He has seen where contractors have poured solid concrete walls, which sounds great, but he has seen where the walls aren't straight "so the amount of pocket space available for the beams to sit in varies as your go down the wall," he says.
Another scenario Altenburg has seen that in dry conditions, the ground around the outside of the pit shrinks away, and the pressure from within a full manure pit forced the pit walls to be compromised, causing a collapse of beams and slats.
Beam placement is a big issue, and Altenburg says his crews replace maybe 80 a year, because the beams aren't pushed back in the pocket properly or set on the post all the way. "Beams should be centered on the support posts, and especially when two beams meet they each should be equally on the post. Again, three inches is minimum," Sauck says.
Quality and age
Sauck says a lot of the time the main reasons Altenburg crews are called to act is due to quality control issues and/or old age.
Altenburg says improper movement of a slat gang, say with a forklift, can create unseen issues in slat integrity. "If you improperly lift a slat with a forklift, you can cause the concrete to crack, but when you place the slat back down, the crack will disappear," he says. It may disappear from sight by the naked eye, but the crack remains, allowing moisture to soak in to corrode the rebar. Altenburg crews try to keep slat movement prior to placement to a minimum "because each time you move a slat you risk damaging it," he says.
Altenburg's rule of thumb for the life expectancy of slats is 25 to 30 years, but his teams have replaced everything from three months old to 44 years old. "There's one barn around here that has the original slats from when the barn was built in 1966," he says. "We won't walk in there, but they are the original slats."
Altenburg's crews do the majority of their work in Iowa, Minnesota, North Dakota, South Dakota, Nebraska, Missouri and Illinois, and they attempt to do what's right for the individual producer. He started in 1994 grouting in new barns.
Since time is money, Altenburg says the need to work efficiently and quickly is important for producers, adding that his crews can do a slat removal and replacement in a 1,000-head barn in three days.
Though they are billed as slat replacement professionals, they will replace whatever is needed to shore up a hog barn from grouting to replacing slats, support beams and posts to whatever structural deficiencies exist in the barn.
An added service Altenburg's firm provides is as inspector of buildings. "We're able to bring some awareness to the farmer or the worker in the barns, and show them what to look for in a particular situation. It gets back to the education. It puts us in direct contact with the person in that barn. We can show them that this is a crack, but right now it's not a structural thing, if it gets worse and worse we detail it out and give them a road map so that a year from now they can look at it and say, 'well Pen 4 had a crack in this beam or this slat,' and they can self-diagnose more or less," he says.
Inspections go beyond just checking over the condition of the slats, and a concern that Sauck says is too often overlooked. "It's fairly easy to see if the slats are in good shape. They may look perfect and be structurally sound from top, but the bottom could be bad and they can fail completely and collapse into the pit with livestock or people on them," he says. "Same with the beams and posts below, the slats can look good, but if the beams are bad it can be catastrophic, extremely dangerous."
As pit gas dangers lurk, Sauck says most the inspections they do can be done from above the slats, "looking at the depths of the pockets with the use of a scope camera and a stick to measure to see how well it's set into that pocket. Experience has also helped to know what to look for, and how to look for it."
In addition to looking for proper beam and slat placement, Altenburg and Sauck don't forget about those pesky cracks, and Sauck says any producer can do their own inspections; all they need is a good flashlight.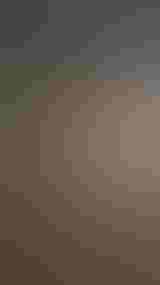 "When your barn is empty and washed, just take a flashlight, make sure the room is dark so it cuts down on the ambient light and you can see what's going on underneath," he says. Cracks show up a lot better in the darkness when a bright flashlight is shone on them. "Look at the bottom of the beam through the slats, and you want to see a square edge, but if it doesn't look right, there's probably a problem with it."
While moisture causes problems as it permeates the concrete and starts corroding the embedded rebar, Altenburg has seen the support beam strength jeopardized by manure levels in the pit reaching the beams and compounds present in manure start corroding the concrete. "The salts have already penetrated the beam and when it does dry out it crystalizes, then when the beam gets wet again the salts are already there and we've seen it time and time again that it just destroys that structure," he says. "It's never 100% of the time, but it's not good for the structure itself."
Regardless the cause of the structural deficiencies, Altenburg says when an existing tension load in the barn converts to a compression load; the hog barn starts to set up like a large-scale game of Jenga. "If one portion is compromised, the whole thing can fail," he says.
Sauck alerts producers to look at the traffic patterns in the barns in correlation to the supporting structure below. "I've seen in these new gestation barns where the post is right in the center of the barn, and walkways aren't poured with concrete the same as where the pigs are, but then they use a boar cart or boar-bot that's so heavy and if it goes on those seams, even a slight imperfection, it creates a hammer effect and we've seen the tops of the posts just shear off."
Altenburg admits he appreciates the work, but "I haven't stressed enough I'm not interested in doing a job, if they're not going to do the whole job. They just want us to replace the slats even though we know they'll be replacing the beams in 10 years and we'll have to come back and lift up the new slats to get at the beams.
"When we walk away, from a company standpoint, I want to have the peace of mind that we fixed it and it's not going to be a problem. We get told 'it's nice to see you, but I hope to hell we never have to see you again.' And that's the way I want it to be."
Harmon recommends "Rectangular Concrete Manure Storages," a handbook that is available from MidWest Plan Service. This handbook is not intended as a code or standard, but rather a tool to help designers interpret the codes and standards that influence the design of in-ground rectangular concrete manure storages and present best construction practices for these structures. This handbook is available for purchase at www-mwps.sws.iastate.edu/catalog/manure-management-livestock/rectangular-concrete-manure-storages.
Subscribe to Our Newsletters
National Hog Farmer is the source for hog production, management and market news
You May Also Like
---