How are America's Pig Farmers weathering the COVID-19 storm?
How are America's Pig Farmers weathering the COVID-19 storm?
Greenway, Hoffman and Sheets detail their on-farm disruptions, opportunities.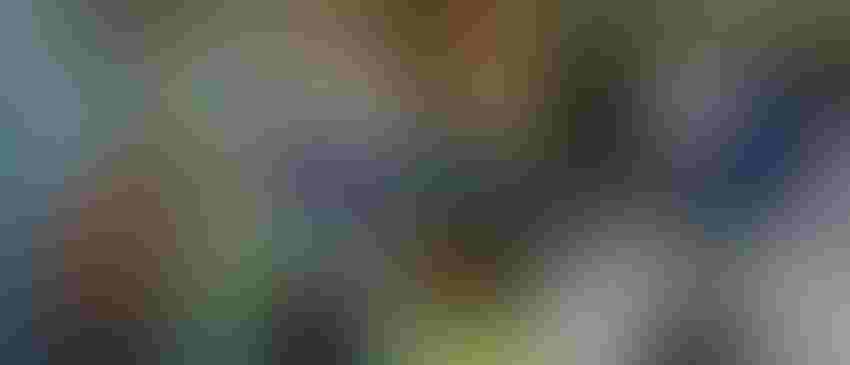 Leon Sheets was scrambling Tuesday afternoon to get ahold of his lead on his load team as his 5:30 a.m. Wednesday load time got bumped up to 12:30 a.m. and rerouted from the Tyson Foods plant in Perry, Iowa, to the reopened Storm Lake, Iowa, plant. Despite loading in a thunderstorm, the Ionia, Iowa, producer was relieved to see the Tyson Foods plant back up and operating and another load of his hogs making it to market.
Brad Greenway has his fingers crossed that his five loads scheduled to go to WholeStone Farms at the end of the week will indeed make their way to the Fremont, Neb., plant. The last few weeks the Greenways, who farm near Mitchell, S.D., have sold pigs to neighbors, sent two loads down to the Platte, S.D., auction barn and even shipped a semi-load to a small sausage processor in Florida.
Pennsylvania pork producer Chris Hoffman has been fielding calls from individuals interested in getting some "free pigs." The owner and operator of Lazy Hog Farm near McAlisterville, Pa., a 1,400-sow farrow-to-wean operation with an offsite nursery, has had to explain his marketing contracts are still active. The Clemens Hatfield, Pa., plant and Leidy's in Souderton, Pa., have not experienced the dramatic pork processing shutdowns and reduced capacity levels due to COVID-19 as many plants across the Midwest have.
As past and current America's Pig Farmers of the Year, Sheets, Greenway and Hoffman have been "the voice" of the 60,000-plus pork producers across the United States, but their stories, especially during the COVID-19 pandemic, couldn't be any more different.
Staying healthy, productive
"From the production side, we haven't missed a beat," Hoffman says. "For three weeks, Pennsylvania was totally shut down except for essential business, and so the employees we have, there's six of us total on our farm, it was basically come to work, go home type of deal. They truly understood what it meant that we had to keep moving and so they were protecting themselves when they go to grocery stores and stuff like that to try to make sure that they stayed healthy as we went through."
The current America's Pig Farmer of the Year says the situation was hard for him and his employees to comprehend in rural Pennsylvania.
"In my area, nobody was dying, no one was sick. It was somewhat difficult in rural life here, all this stuff going on around you and nobody around us was experiencing it. I didn't know anybody that had gotten the coronavirus until probably four weeks into it," Hoffman says. "It's somewhat difficult at times as you go through this, with my workers as well. It's kind of a weird place to be, but we kept going."
Early on in the crisis when it became apparent there could be a personal protective equipment shortage for the processing facilities in Pennsylvania, a local feed cooperative organized an effort to sew 9,000 washable masks to donate to the plants. Hoffman wonders if that effort help stave off COVID-19 outbreaks at the plants.
Other market opportunities
When the JBS plant in Worthington, Minn., shuttered at the end of April for a few weeks, Greenway and his wife, Peggy, decided to actively pursue some alternative markets for their hogs.
"They thought at the time they would maybe get 50 to 70% of what we had contracted to go there and so that was a concern because a majority of our pigs, probably 60% go to JBS right now," Greenway says. "We're not out of the woods. We're getting really close and they've been good at trying to get loads in. Like so many people, we slowed our diets down and tried to hold things back. Our weights are all right and still Thursday, we were at 286, which is perfect, but we really backed things off. We started pushing the deadline when baby pigs come in."
For Greenway, being part of the 14 Davison County farms that cooperatively own Bluestem Family Farms, has been a blessing during this time. Managed by Pipestone Veterinary Services, the sow farm supplies pigs for the owners' respective pig farms in the area.
"Our farms being part of that, just the networking of not only the vet clinic, but plenty of people. Literally every week we have either a webinar or a conference call on the status of plants and just reaching out to as many people as they can about information. We feel fortunate there," Greenway says. "They're constantly reaching out to all of us to find out where we are at so they can start to prepare for that at the sow barns."
Greenway also credits the South Dakota Pork Producers Council's persistent communication with the state's producers, checking in on pig flows and finding places for producers to send hogs that are market ready.
"I think this whole thing has given people a better respect for communicating with each other, networking, which is a good thing, a positive to come out of all of this," Greenway says. "I think it's part of it to realize how dependent we are on everybody in the food chain. You know, have such respect for the workers in the plant, truckers and so it makes everybody have appreciation for where their food comes from. I think the general public is going to have a better understanding of what it takes to make sure that they have meat on the shelves when they go to the grocery store."
Labor is critical
Sheets says the pandemic has also shed light on the lingering labor issue at the plants.
"We were pushing our harvest plants pretty hard, before it all started, and they were struggling to get enough staff on a couple or three of the newer plants," Sheets says. "They weren't able to run it to full capacity with hiring healthy people at the time before we started getting unhealthy people, so it may be from that standpoint and the wake-up call that maybe we hit that point in there that we may have to run at less than 100% capacity to deal with hiccups."
With several agreements in place with different harvest facilities, Sheets attributes not putting "all his eggs in one basket" for getting him through the situation so far.
"We got fortunate that we were getting pigs out and kind of in a timely fashion," Sheets says. "They weren't getting too big, but it was time. Probably the biggest disruption is that they give you a hint of how many loads you might get for next week and they kind of suggest what time it might happen, but that's almost hour by hour — you might have four or five hours' notice that you're going today."
He also is highly appreciative of his team, for their continuous communication and flexibility in schedules. As plants started coming online more, it wasn't unusual for Sheets to get a call for two loads, even a third load at a moment's notice. Now his team has gotten in the habit of always having a load marked and pre-sorted.
"We can kind of live with that, knowing we're getting the pigs out, but now trying to get everybody rounded up and does that work in your schedule? What are we doing for Plan B to get the help in here to kind of help alleviate it?" Sheets says. "From our standpoint, kind of minimal, it does disrupt your daily life, but it is one of the things that we just do, and you appreciate the plants. If they can put more animals in the harvest; they are doing that, and they're just figuring out who they can get, where and when."
Plan B
If the situation gets worse or if a second wave of coronavirus hits, Sheets and Greenway say they have some alternative options.
"We still have our hoop barns. We used to finish all our pigs in the hoop barns, and they are available," Greenway says. "We actually dug out the automatic waters and had taken them out, and use it for our cattle now, but we had that, if we needed to move 800 or 1,000, so I think the key is always be thinking about down the line if you've got enough time to try to make arrangements. There's not a lot of empty barns sitting around, but that was our Plan B."
"We are certainly looking at some of our facilities, like the nurseries are set on size and we have to move pigs, but we could take a wean-to-finish barn, we could double-stock some of those more. I've got one of my finishers that has two rooms. We may take what pigs are left in that barn and put them on one side and wash up the other side and go ahead and double-stock that for a little bit because pigs come in at 60, 70 pounds and run them on half the room. You can't do that for the full duration, but you can buy yourself some more time," Sheets says. "We've got one barn right now that we're looking at that may be a kind of an overflow, so we don't have to sell some lights or go to something drastic. We may just pull up the bottom end out of the barn and bring to another site, you know, when we're going to be comingling pigs, but the other options aren't all that enticing either."
Hoffman recognizes how fortunate Northeast producers have been during this pandemic, but he is also looking at options for buying time in case some supply chain disruptions happen in his part of the country.
"I work with a feed company that has a bunch of finishing barns and we have noted a couple of barns that may be available, should we have another blip on the radar," Hoffman says. "We are kind of thinking, with all the precautions in place, we are going to continue to go as we've done over the last year to produce pigs to meet our agreements that we have on deliveries and our marketing plan. Should something happen, that we have to make those decisions, our veterinarian and I will have to have those conversations."
Hoffman says it has been hard trying to stay positive when he knows the pain so many fellow producers are dealing with right now, but as America's Pig Farmer of the Year he says he wants to do what he can to help out and try to answer as many questions as he can coming from consumers.
"Right now, we're seeing so much of the grocery store shelves being empty and the type of banter you hear is that there's not enough food, there's not enough protein. Yet, there's plenty of protein. It's just the processing process, getting into distribution, getting into the store. There are plenty of animals here to be able to get there," Hoffman says. "It's sometimes hard for folks to truly understand what it is, because for all their lives, they've always went to the grocery store — it was always there. There's a difference of people thinking of going to the store and seeing empty shelves. Then the question is, am I going to have food to eat? So, it's a great time though to talk about agriculture, talk about who we are, what we do, and how we continually just keep trucking on, and we'll be there for tomorrow and the next day, the day after that, we'll get back to whatever that new normal is. I don't know what that's going to be, but we'll get there."
Subscribe to Our Newsletters
National Hog Farmer is the source for hog production, management and market news
You May Also Like
---